Various Light Modes | Detachable Design | ANC | Bluetooth 5.2 | Premium Sound Quality

Welcome to GPods, the world's first innovative TWS earbuds with light control and detachable accessories that can offer consumers a personalized light-up experience unique to their own mood, music preferences, or even style. It's an immersive experience like no other. Inside every pair of GPods is an independent spirit, resonating with a beating heart. Dare to shine, shine where you are, shine what you see, shine what you feel.

A unique software system allows full control of emanating light. Dimness, brightness, rhythm response, shades, and colors are at beck and call through digital technology built into every GPods.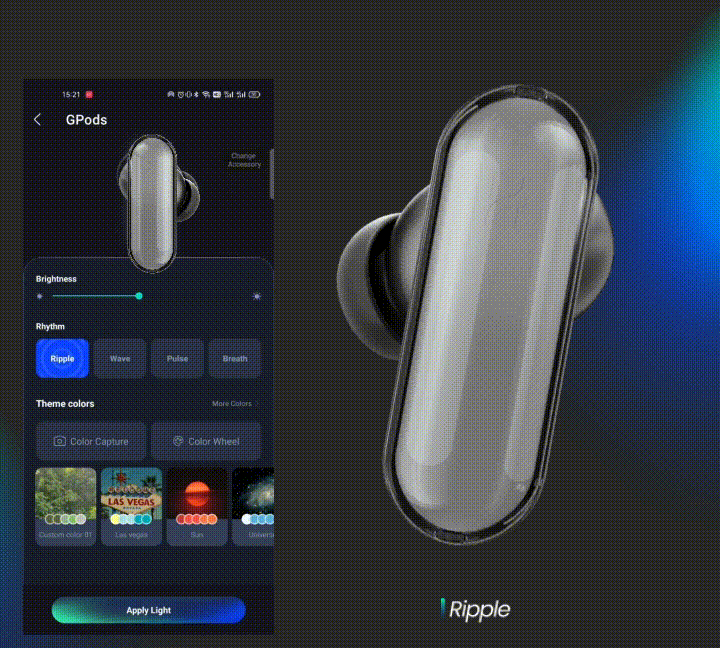 Easy control through GPods App

Artificial Intelligence (AI) with algorithmic capabilities allow for arranging photos and analyzing the color ratios found in stored photo images. Colors for each pixel point in an image are sorted in order to calculate color blocks. These blocks are transformed into light which is then projected in colorful style from each earbud.
GPods project scenic vignettes, lasting memories, emotional moments for all to see.

Unleash creativity with do-it-yourself color settings and almost endless opportunities for light effect. GPods support an estimated 300,000 color combinations built on a foundation of 72 basic colors. Personal preferences are strongly encouraged. Choose the right shade for the right mood. Shine every time.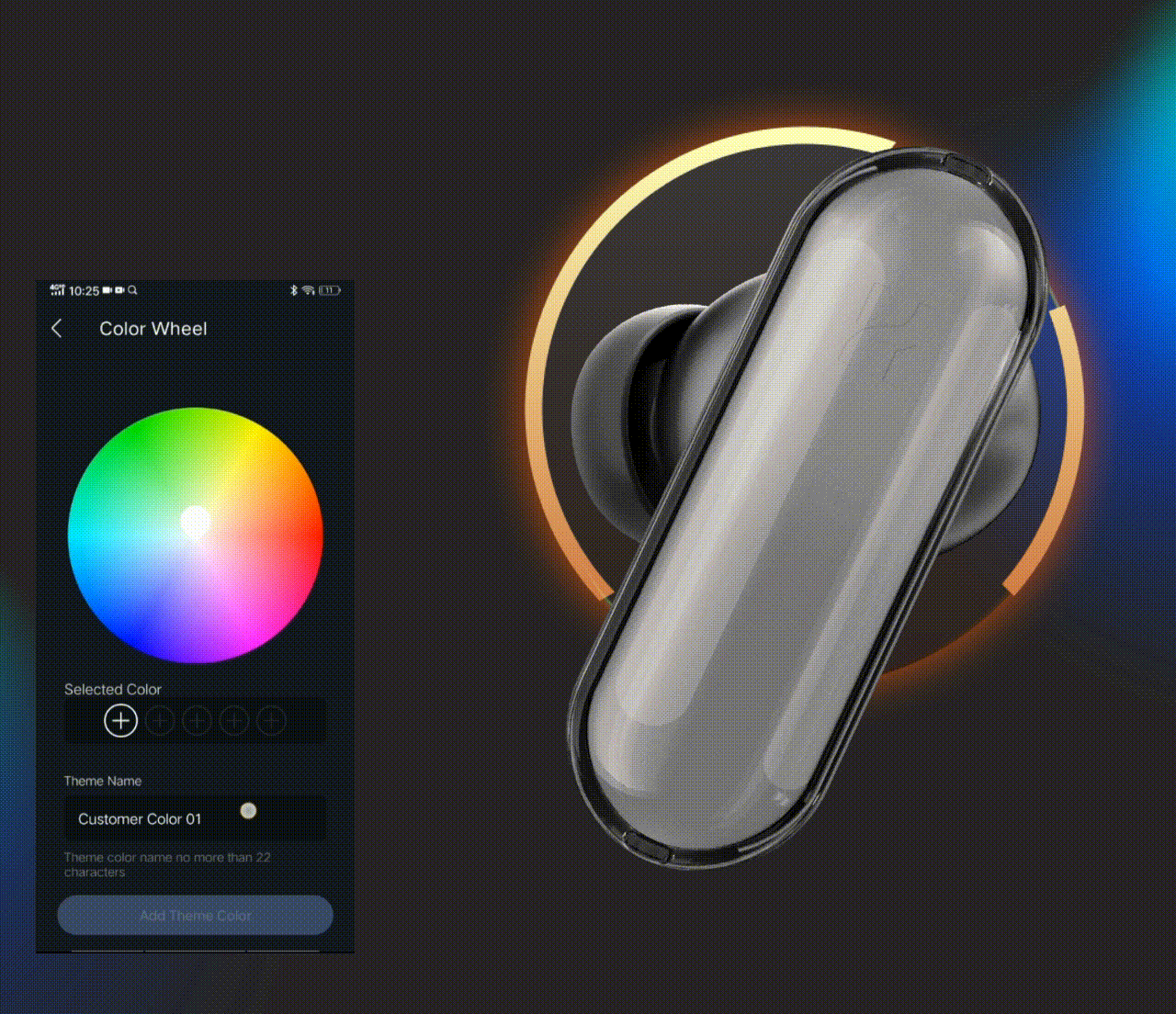 Color and music blend for a knockout light show, night or day. GPods incorporate digital technology to manage 6 built-in LED lights in the full-on red-green-blue (RGB) spectrum. With these algorithmic controls, the color of each LED changes to match the music, the beat, and the groove.
We have made different adjustments to the lighting and have achieved the best lighting effect.

Innovative, personalized snap-ons hold GPods in place while carefully keeping each earbud's speaker unit separate from the outer casing. The result is a visible, personalized display that in no way interferes with the sound quality of the speaker.
introducing "The Origin":
The tiny drops of water that collectively fill the planet's rivers, lakes, and oceans are the inspiration for a colorful accessory design appropriately dubbed The Origin. Just as sparkling flashes are formed when sunlight reflects on the droplets of a watery surface, GPods dazzle the eyes with 6 full-color LEDs.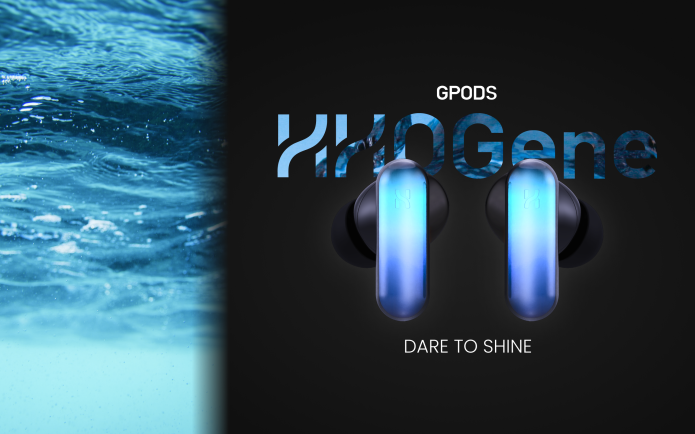 introducing "Tiger Stripes":
Mighty tigers are the world's fearless bearers of good fortune. The GPods sporty, limited edition Tiger Stripes design accessory is for those who are never shy. Wear it for a personalized look that claws with confidence.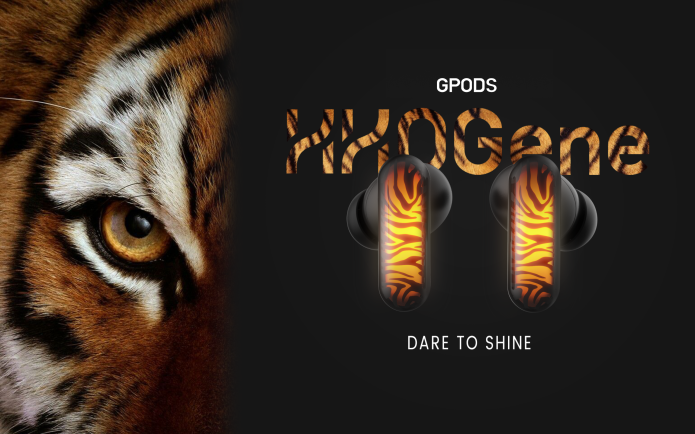 Wearers attach GPods with a simple snap, making accessory swapping easy and convenient. GPods plans to continue expanding its accessory lineup so that every experience is personal and unique.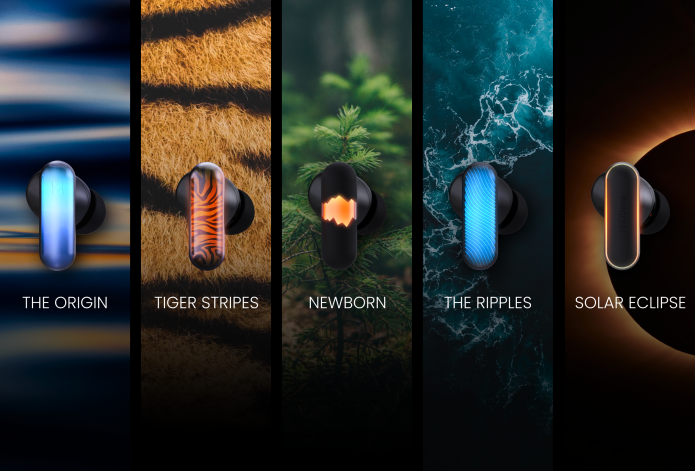 GPods use active noise cancellation (ANC) technology and feed forward topology to achieve brilliant noise control, reducing background sound levels of up to 25 decibels. Nearby sounds including voices are detected and filtered out without distortion through an AI system built into every GPods.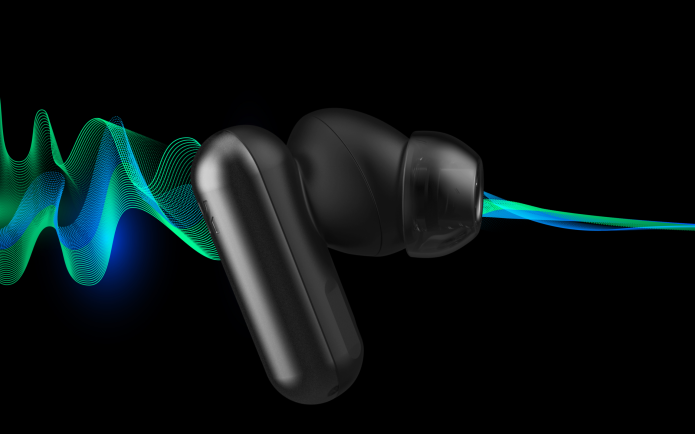 Music roars and soars with the GPods configuration of high-definition (HD) audio featuring 10mm dynamic drivers that deliver every detail, every tone. Tuning is strengthened by means of a polymer composite diaphragm in each earbud which combines with the drivers to extract the finest of musical points. HD audio coding technology optimizes the depth of sound, sense of presence, and spatial dynamics.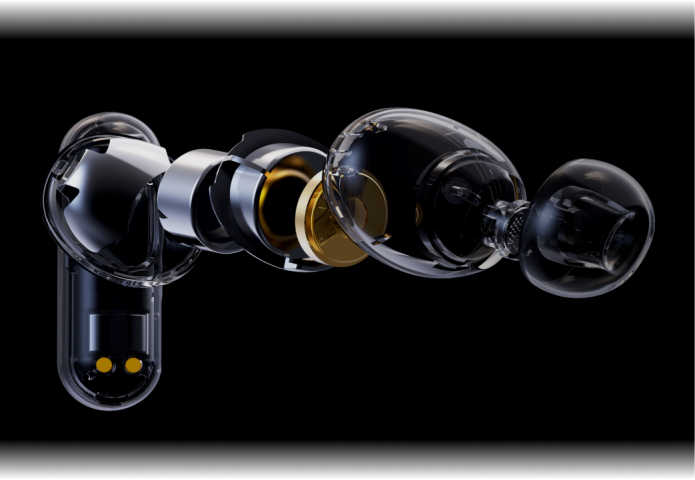 Touch is power. Music play, phone call pickups, light effects, and noise blocking are executed seamlessly and with ease by means of user touch. Go ahead – feel the GPods difference.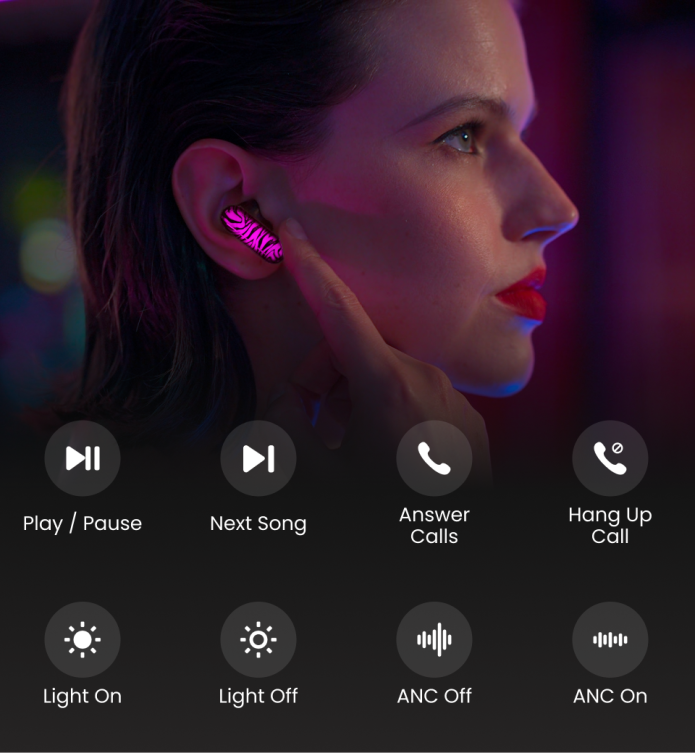 Keep the beat alive for up to 5 hours on a single charge, or up to 20 hours with an external charger. Power life is shortened somewhat to around 3 hours when light effects and the ANC system are in use. GPods can be fast-charged, with 10 minutes of charging yielding about 2 hours of listening pleasure.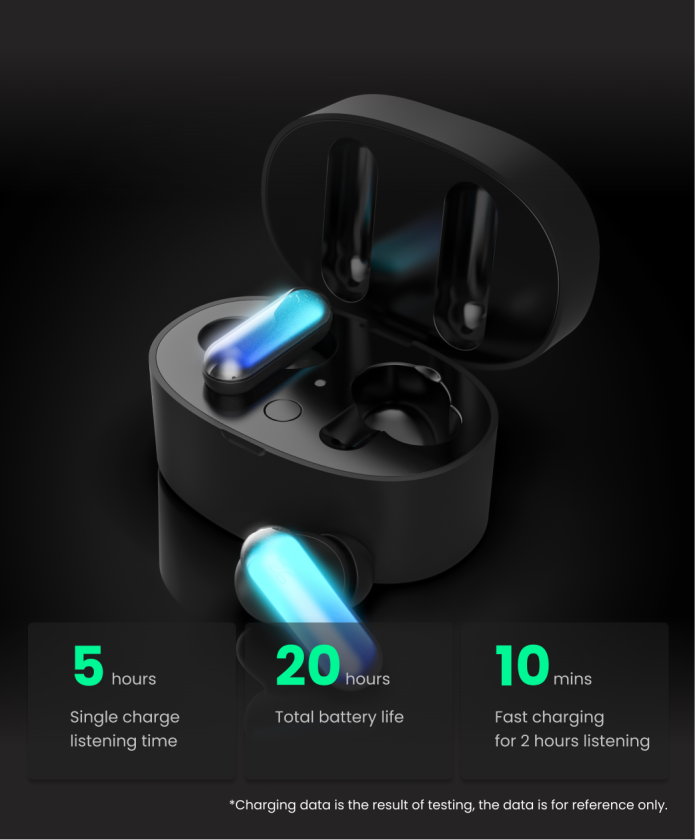 By employing Bluetooth 5.2, GPods provides transmission speeds of 2 Mbps, which is twice the speed available with Bluetooth 5.0. Transmission capacity (an 800% increase) and distance (four times greater) have also risen significantly.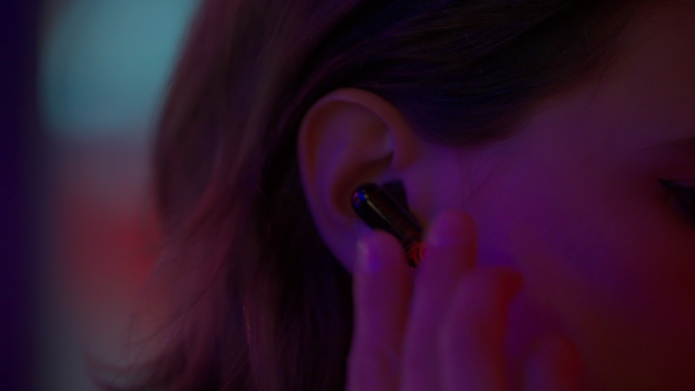 Sweaty jogs and puddle splashes? No problem. GPods have been given a waterproofing rating of IPX4. That means you can focus on the music, not the moisture.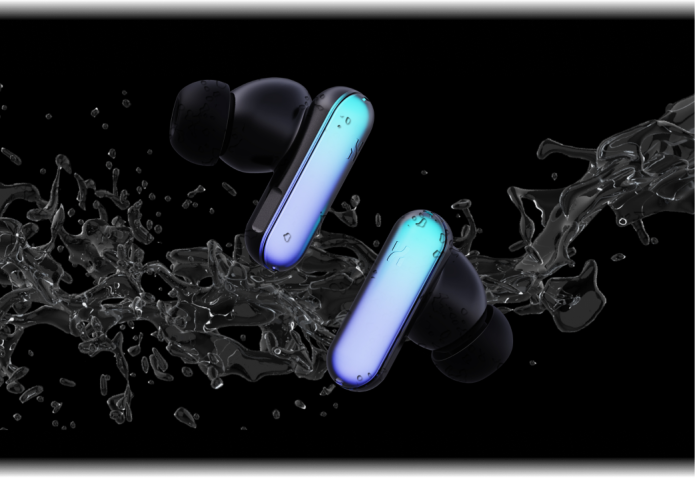 In the quest for an optimum light experience, we spent more than a year plotting design schemes. Five iterations were devised, along with 8 versions of interchangeable accessories. Finally, we achieved an overall uniform and digital lighting effect unlike any other experience.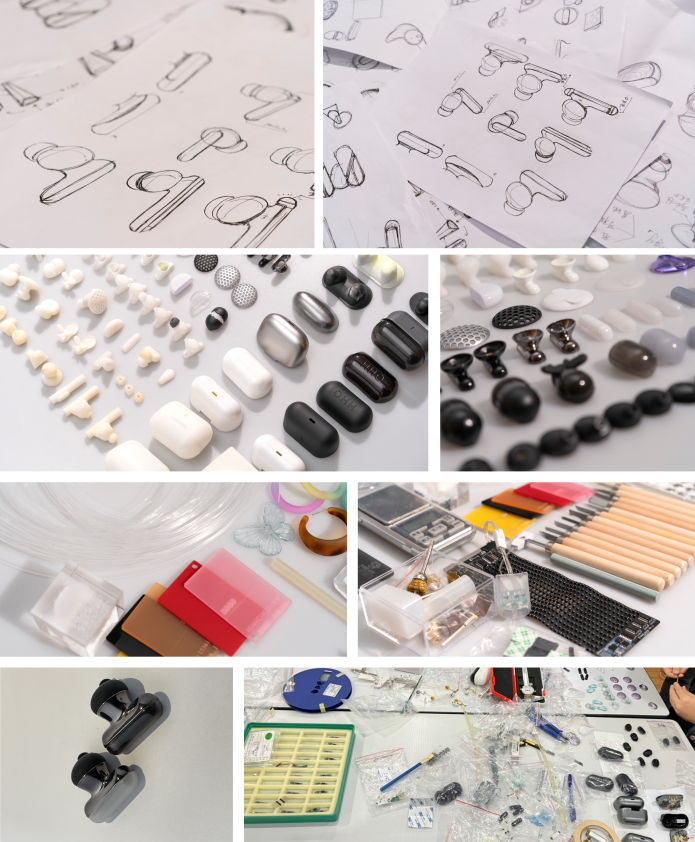 Some GPods have been distributed ahead of the product launch. Let's see how these first-come consumers respond to the experience.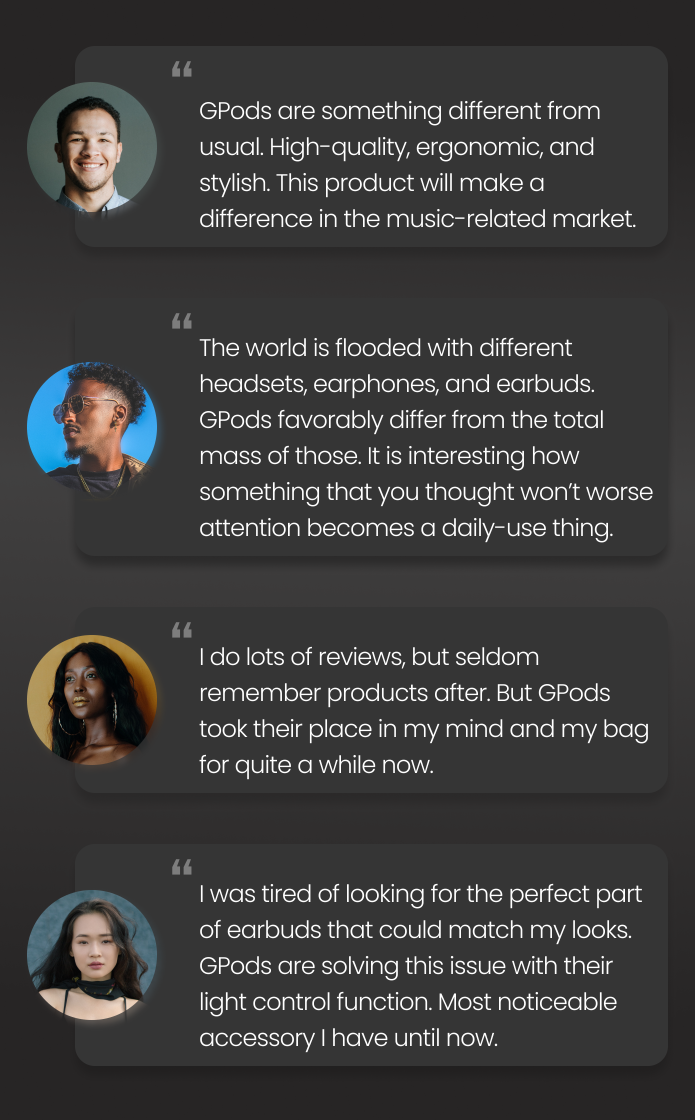 Influencers with huge fan bases are talking about the innovative smarts and disruptive design of GPods. People everywhere are listening.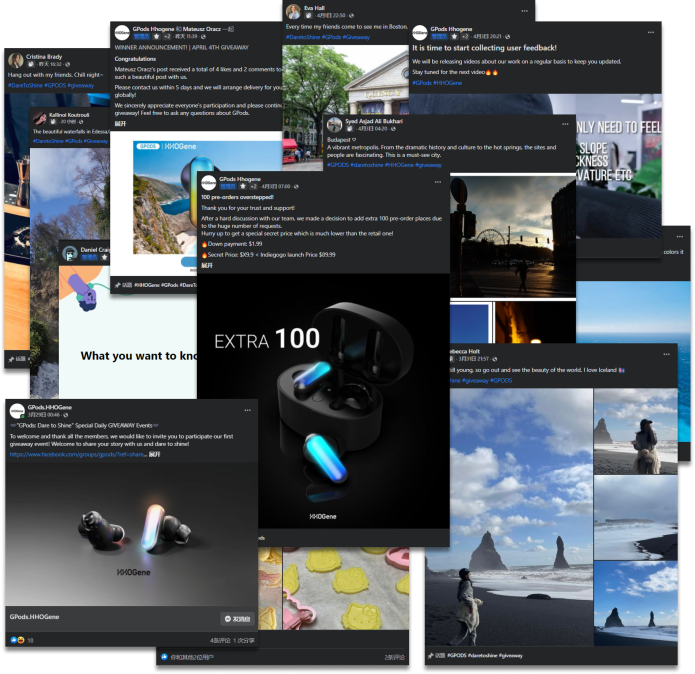 GPods have already graduated from the product development and product debugging stages. All functions have performed well with good results on every front. Here are the specs:
What's In The Box