Clipper & Milling|One Button Operation|CNC-grade Head|Safe Design|Storage Box|Type-C|Metal Case

Nail clipper or trimmer is an indispensable tool that everyone should have in daily life. However, every time you trim your nails the nail clippings will fly all over the place. After trimming, in order to avoid the sharp and rough nails accidentally scrape the skin, again you'll have to file the nails dull with a nail file which is a waste of time and effort.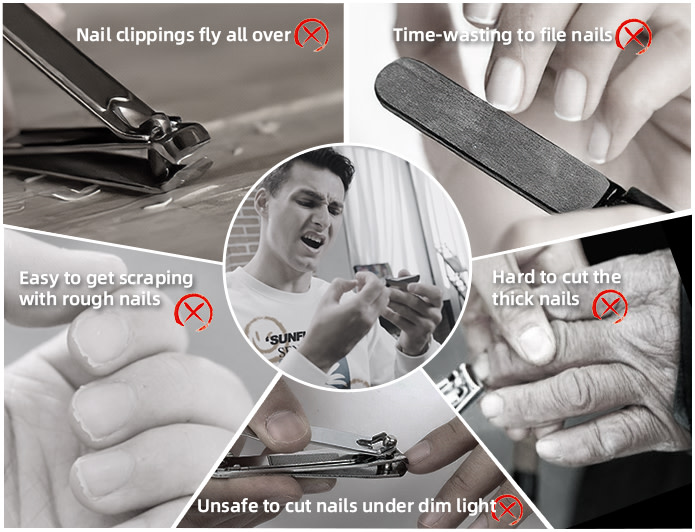 Repace the traditional nail cliiper with Seemagic E2 Pro Electronic Nail Clipper to achieve life automation.
The stylish outlook of this nail clipper just likes an airpod, which is very portable and simplicity in design of the body with ONE button only. Simply switch on with a touch. Seemagic E2 Pro Electronic Nail Clipper comes with a powerful CNC-grade blade head makes cutting your nails easier and smoother. Save you a lot of time and effort. You can also use Seemagic E2 Pro to DIY and file different nail shapes, makes nail cutting a life pleasure.
Comparison between traditional nail clipper and Seemagic E2 Pro clipper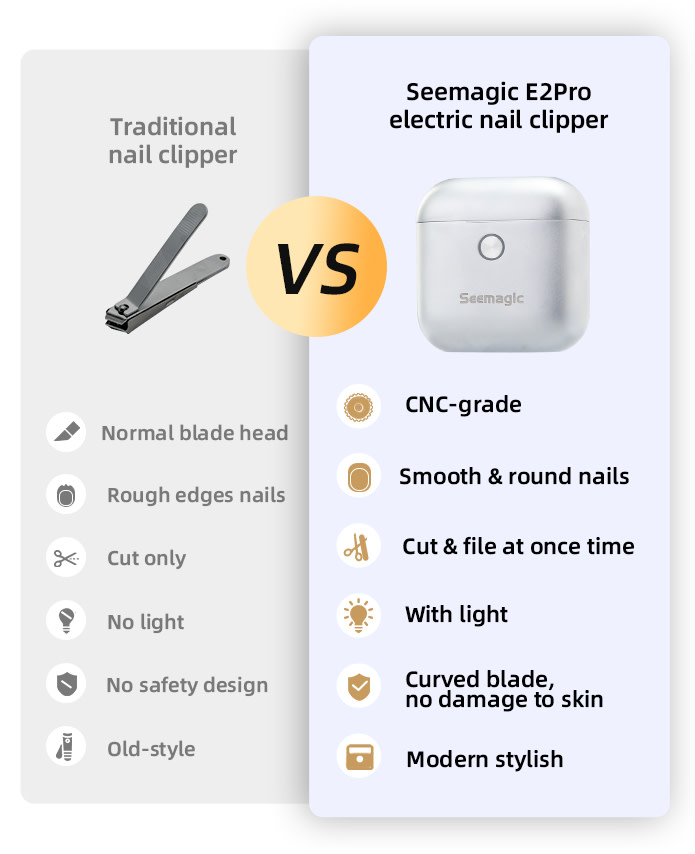 Seemagic E2 Pro is designed with only one button on its body. Press and hold the button for 6 seconds to power on. 2-speed modes, freely adjustable. One button operation, easy to operate.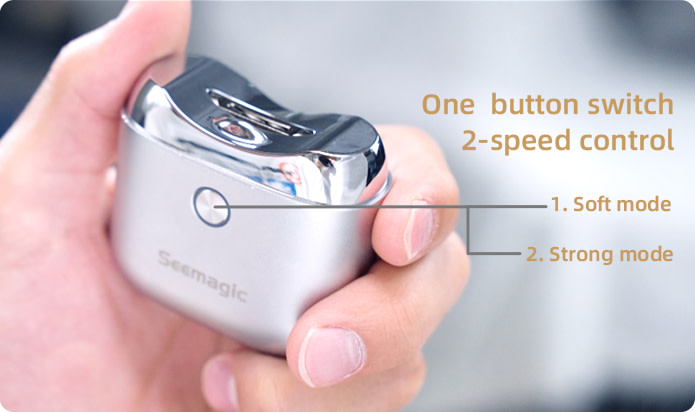 One-Two-Three Steps
The CNC-grade alloy blade of Seemagic E2 Pro Electric Nail Cutters is super sharp that can slice off any nail effortlessly. Equips with a whisper-quiet motor, 360° rotery cutter head generated by the high-speed rotation allows smooth and easy cutting of thick nails no matter how strong or hard or gnarly the nails have gotten. Cut and file the nails at the same time effectively. Achieve the integration of trimming and milling. Only take 1-2 minutes to complete both hands, which is very convenient, efficient and time-saving.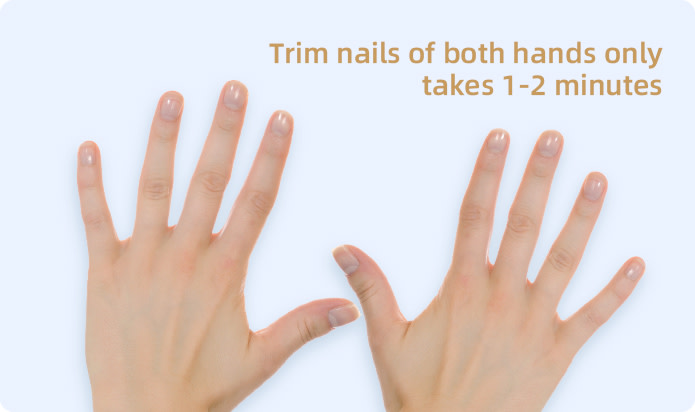 Super powerful and quiet motor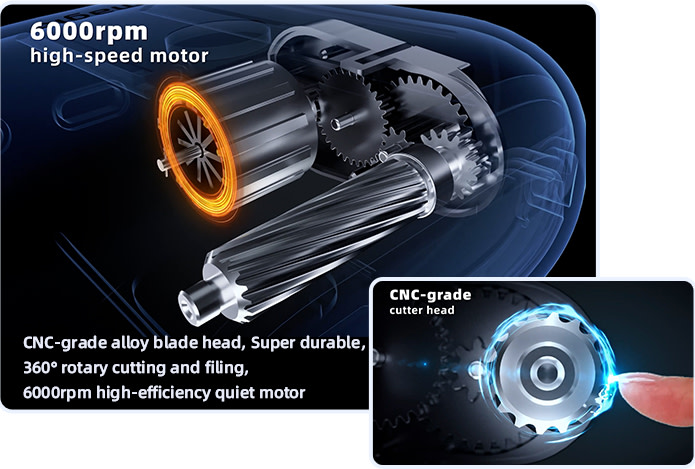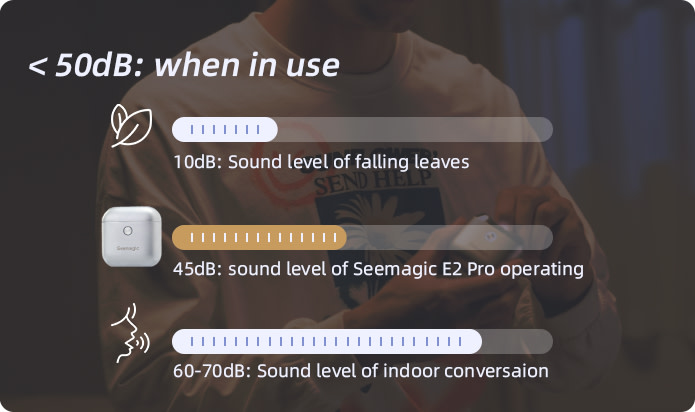 Seemagic E2 Pro Electric Nail Clipper has a curved edge designed to fit your nails, make it easier to trim. Only 0.3 mm distance between each metal blade head and protection edge, and the protection edges on both sides of the blade heads has an opening of only 2mm. Ensure it is perfectly safe when your fingers are in direct contact with the nail groove and prevent accidential cut.
User-friendly LED light
Equipped with an user-friendly LED light next to the blade head, it will auto turn on as you clip and illuminates the cutting area to help see while cutting even in the dim. If you don't need the light, simply press and hold the power button for 2 seconds to turn it off. Easy peasy!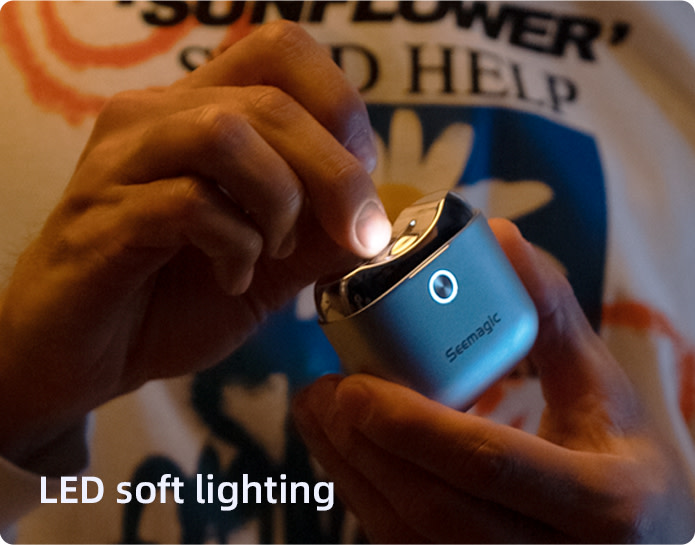 The humanized design for catcher with anti-splash storage box at the back that catch nail clippings. No worrying about nail scraps splash everywhere when using. Keep it neat and hygine. Simply tap open the storage box and pour out the scraps when finished.

Powered by a built-in 600mAh rechargeable battery, which can be used for at least 30 times on ONE single charge.The Seemagic E2 Pro Electric Nail Clipper adopts the advanced Type-C fast-charging technology. SImply fast charge the battery directly by using an USB cable when the battery level is low.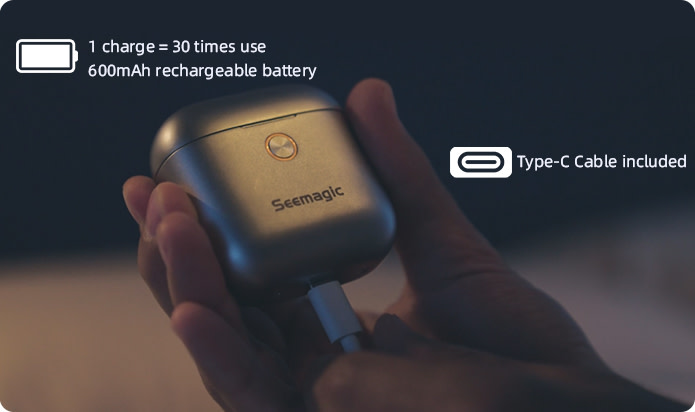 Seemagic E2 Pro features a sleek and durable design, zinc metal alloy case of the CNC precision machining with a silver paint finish.  High quality metal case design with magnetic cover.
Its smooth and compact body is designed for ergonomic comfort. Size of an airpod only which is very portable, easy for you to take it anywhere! Seemagic E2 Pro is definitely the most durable and long-lasting electric nail clipper!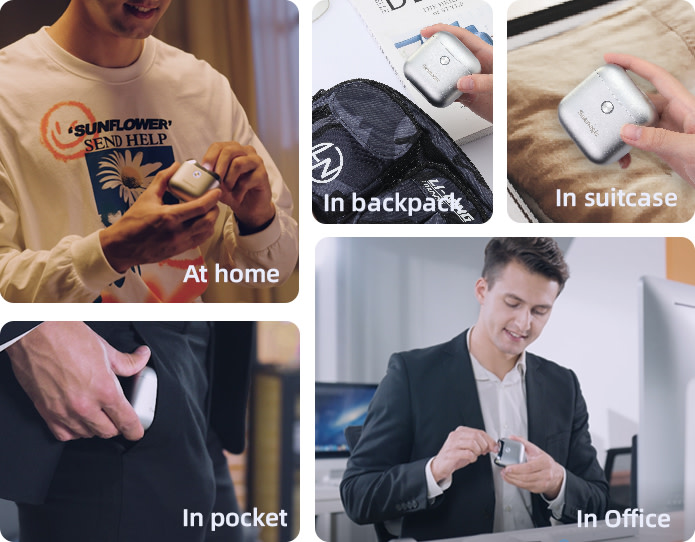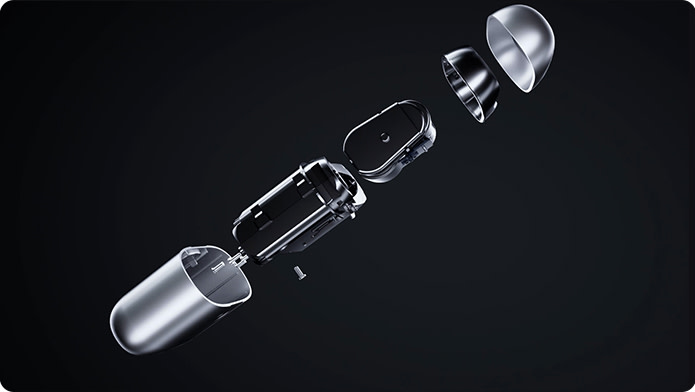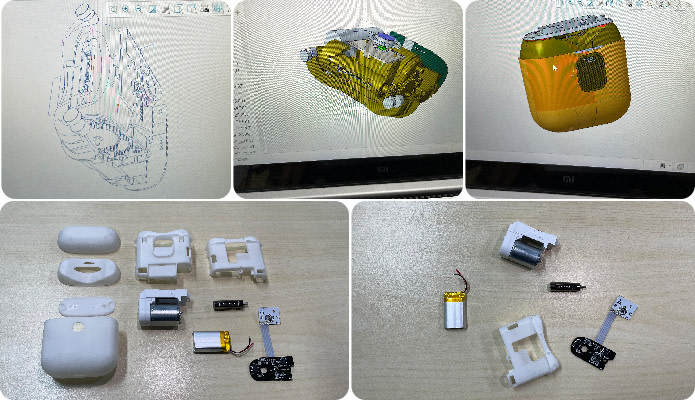 Seemagic E2Pro is designed to be a modern and durable gadget, that made of CNC precision milled alloy zinc metal case and high quality milling head. We aim to change the way of traditional nail clipping, from manual to automatic. Hope the small change can bring a huge difference for people's daily life!