Dual-Light Therapy | Portable | Whole Knee Coverage | Reduce Inflammation | Recover From Injury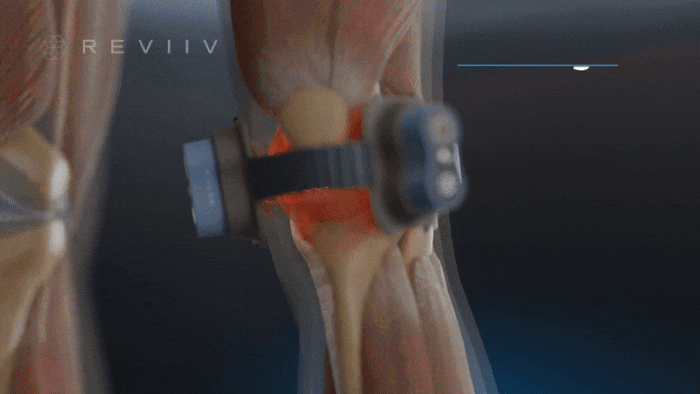 FINALLY, Find Joint

 

Pain Relief
Introducing The Knee+: 
A dual-light therapy device that uses LED lights and medical-grade laser technology which are proven to:
Support near-complete

 

recovery of damaged blood vessels and cartilage
Reduce inflammation and

 

decrease joint pain.
Strengthen the body's own

 

unique healing process for faster rehabilitation.
With the Knee+, you get ALL this from the comfort of your own home so you can get back to doing what you love — Pain-Free. 
*** IT'S WORKED FOR THESE ATHLETES ***
'Don't just believe what we say…
…hear it from our Prototype-Testers'
UnBoxing KNEE+
with Physiotherapist James Hunt
Light Therapy In The News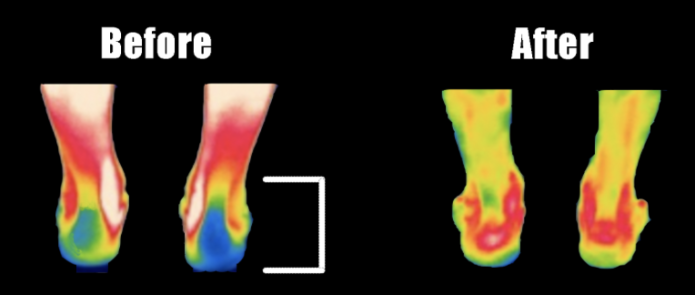 Light therapy (clinical term: photobiomodulation) *increases blood flow to damaged tissue by dilating blood vessels and **decreases regional inflammatory cytokines.
*Liebert, Photobiomodulation, Photomedicine, and Laser Surgery Volume 38, Number 9, 2020
** Alves et al. Arthritis Research & Therapy 2013
Light therapy works by enhancing your body's natural self-healing response. 
Light therapy stimulates: 
Pain Relief & Recovery to the affected areas by increasing blood flow, releasing nitric oxide, and reducing oxidative stress.
Near-Complete Repair

 

of damaged areas by enhancing mitochondrial function, regenerating damaged cells faster and more effectively.
In a nutshell… you could say the Knee+ device gives you the bee's knees.
The Science of Light Therapy & KNEE+

By creating a joint-specific device, you experience the highest positive impact on your recovery, because the device consistently delivers the right dosage to your internal tissue.
Dosage is

 

key

 

for optimal results
Panels and LED-only devices don't provide the optimal dosage​ for recovery
Knee+ lasers provide a deeper penetration to your joints and muscle

 

tissue to ensure

 

fast relief and near-complete recovery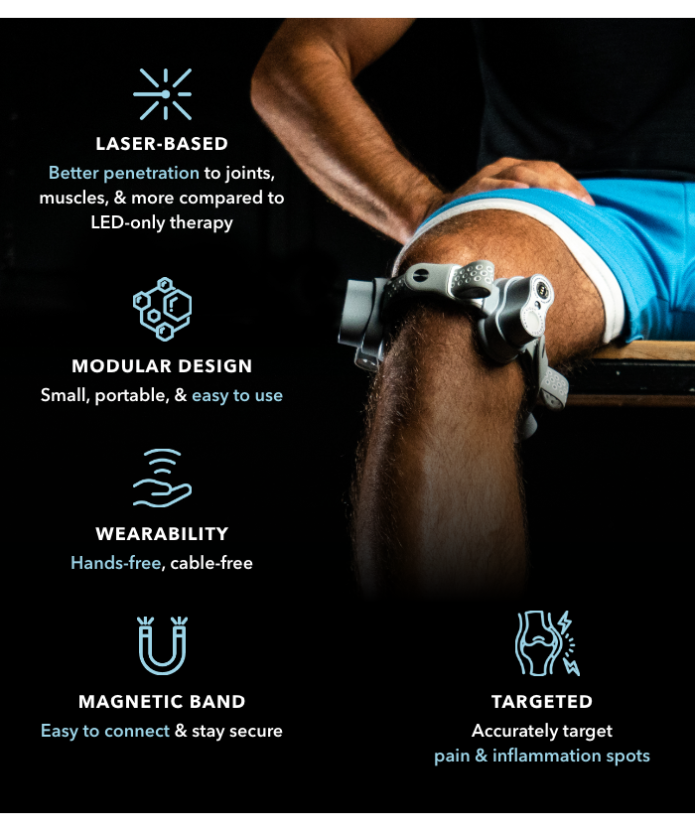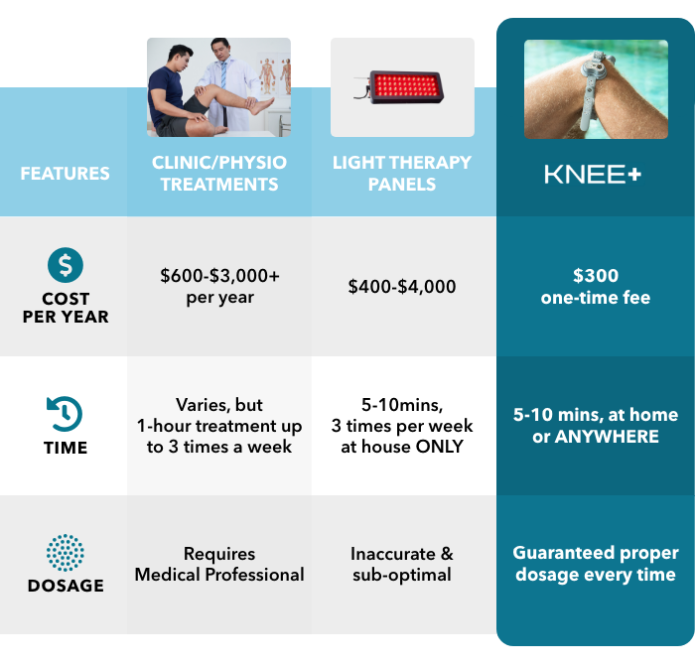 You've had a

 

traumatic injury

 

in the past

 

(MCL, ACL, Meniscus, Muscle Tear or Sprain, Ankle Sprains, etc)
You're limited

 

from doing what you love because of pain.
Surgery is a constant stress

 

in the back of your mind. 
You skip participating in sports/athletic activities because you know you'll pay for it the next day. 
Experience

 

restless nights

 

because your joints ache.
WHAT CAN ENHANCED LIGHT THERAPY HELP WITH?
Pain Relief
Reduce Inflammation
Repair New and Old Injuries
Athletic Recovery & Performance
Increased Immunity
Repair Cells, Joints, Tissue, and Skin
Improve Sleep
Reduce Anxiety & Depression
And so much more…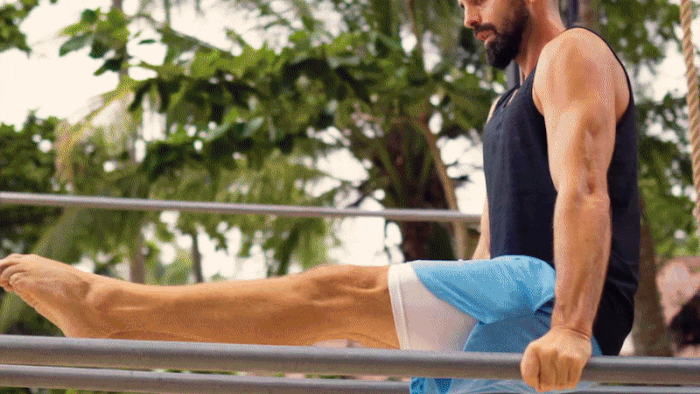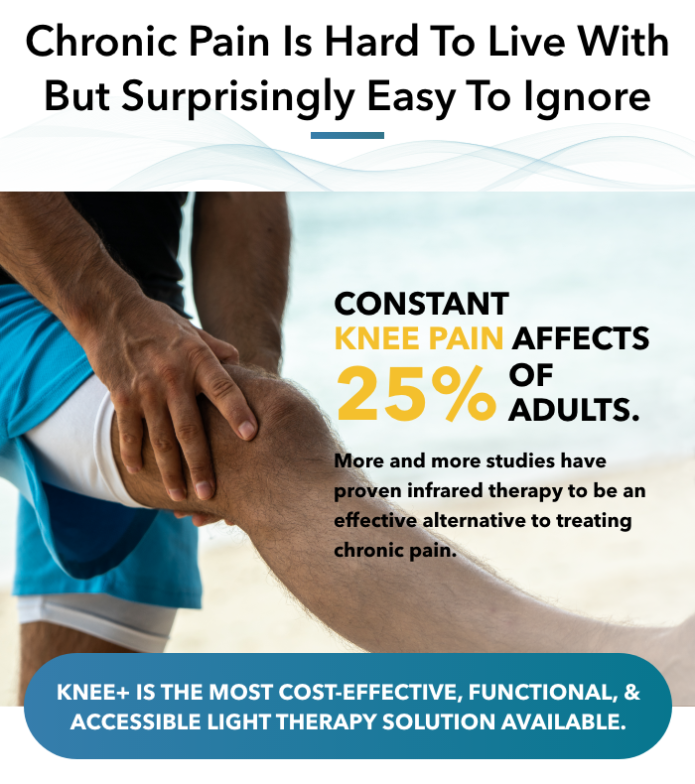 THE KNEE+
The Knee+ is different from any other red light therapy device in the market. 
Specifically engineered for the best results possible.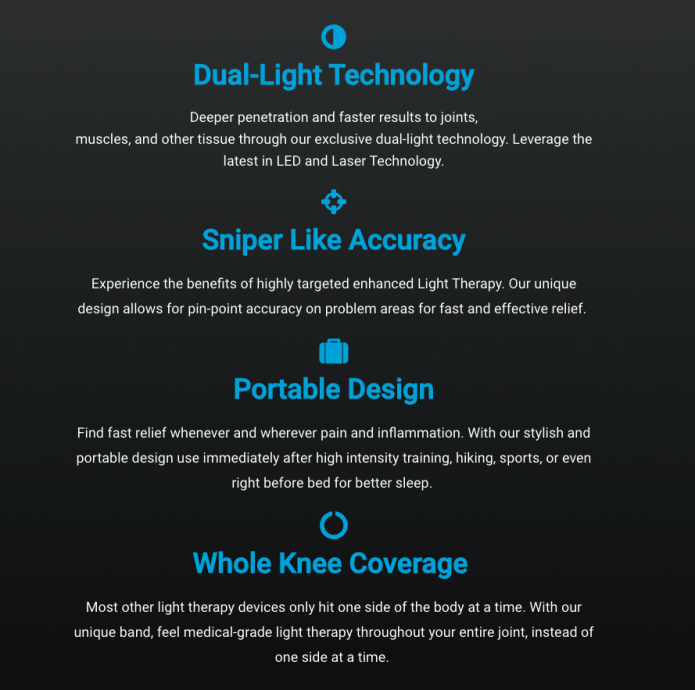 Cutting-Edge Dual-Light Technology
Why does Knee+ include lasers and LED lights?
We're so glad you asked! Commonly used LED lights aim to provide surface-level therapy while the lasers help effectively penetrate joints and internal tissues. The powerful combination of LED lights and lasers allows the Knee+ to produce optimal wavelengths throughout one session.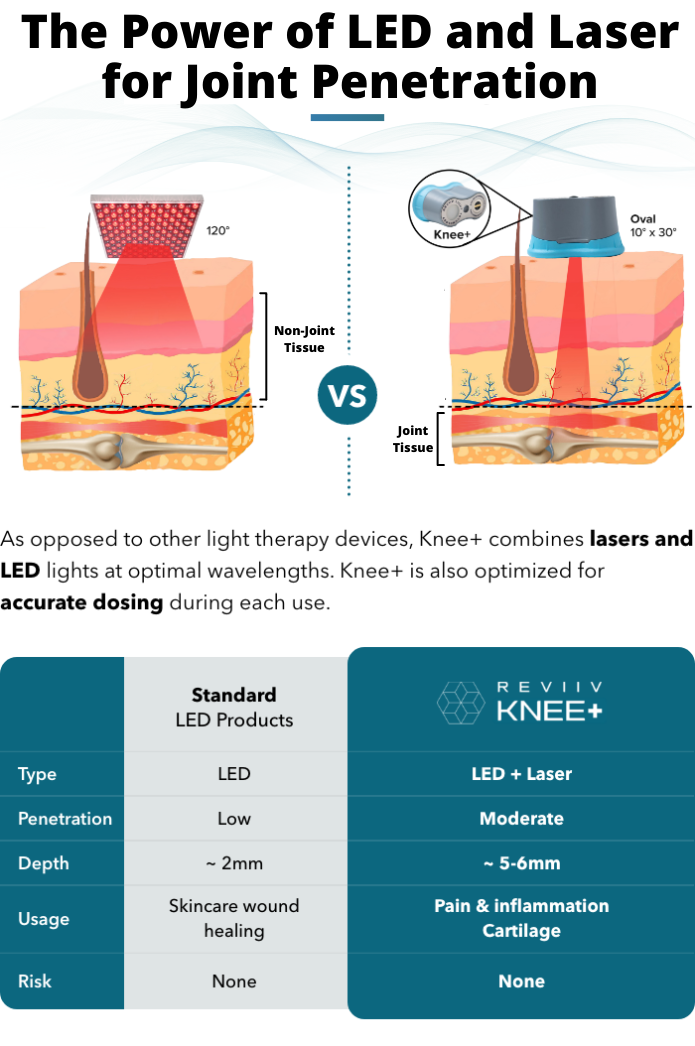 Modular design
 

for flexible positioning
Medical-grade laser technology help increase the penetration rate for more accurate dosing of internal tissue
Applying at skin level ensures

 

exact optimal dosage every time, meaning quicker recovery

The Knee+ modules are battery-powered and include rapid recharge tech through the magnetic charging dock. The charging dock is 100% portable so you can bring Knee+ with you anywhere!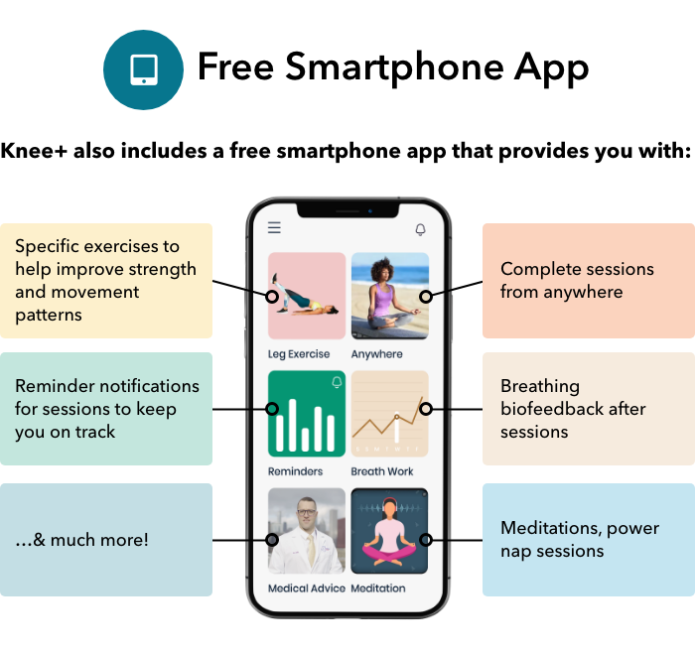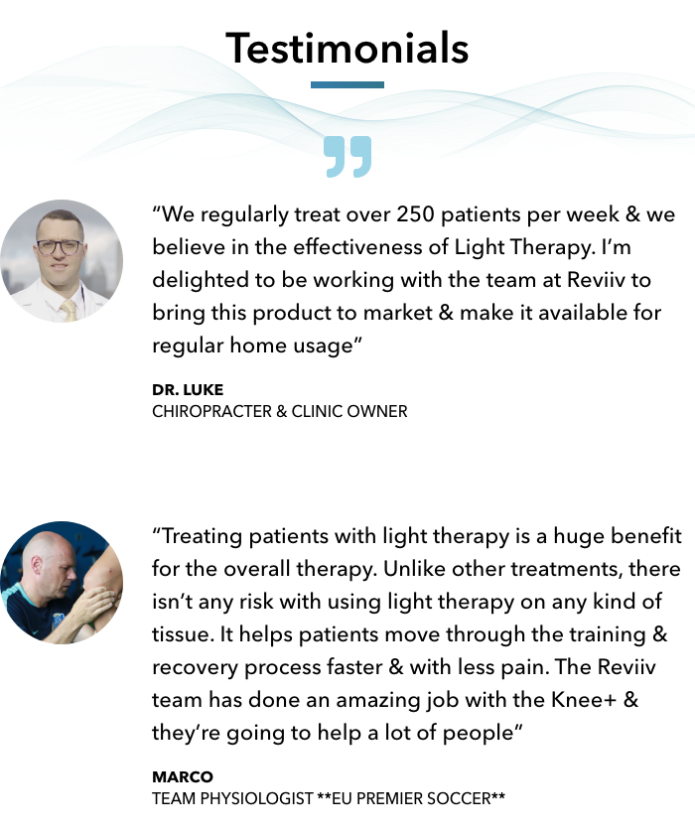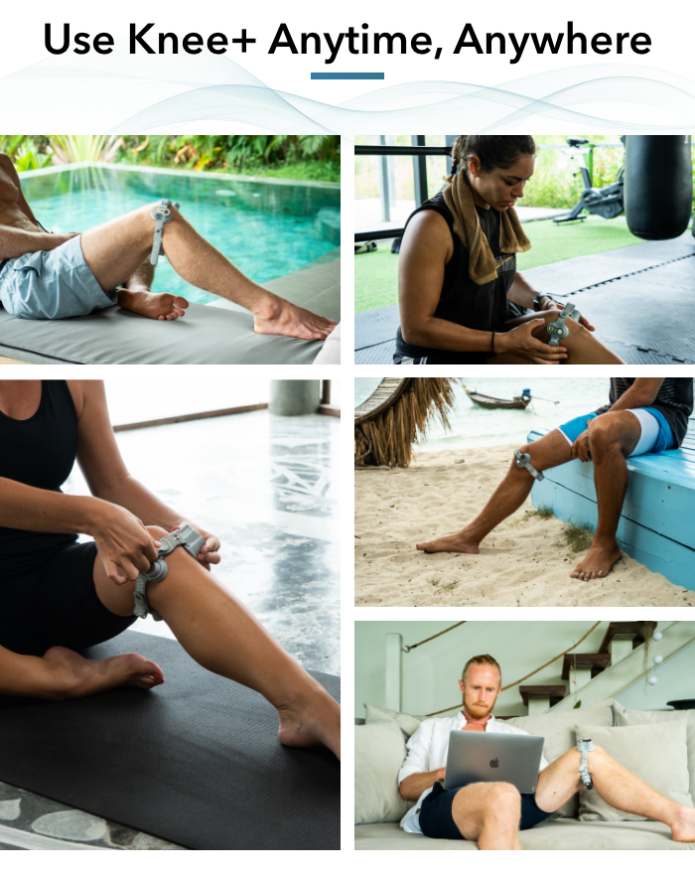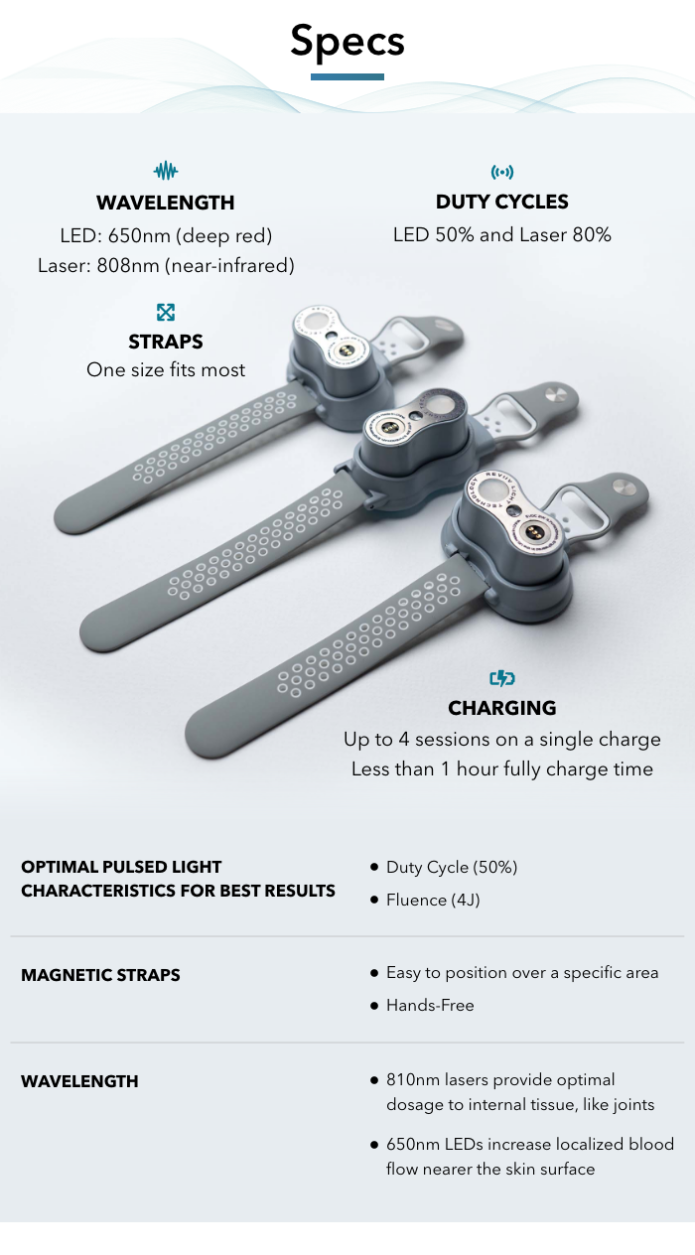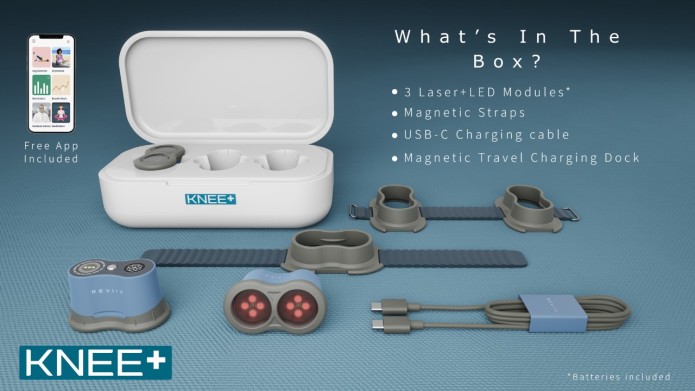 *Current functional prototype