Fully automated and ergonomically designed. Grow up to 30 fresh & chemical-free herbs and veggies.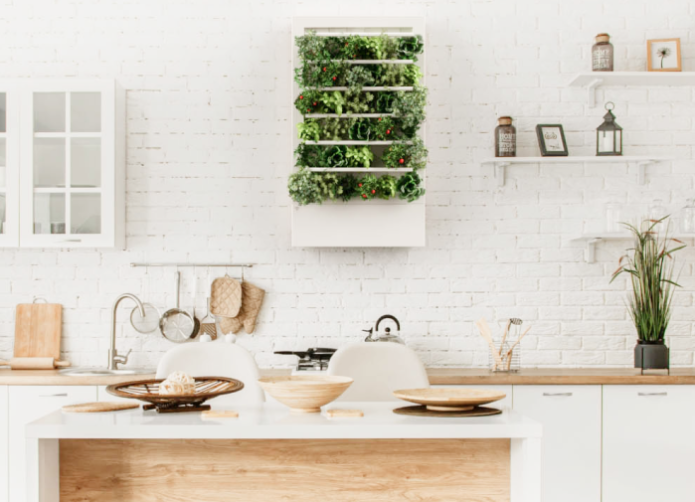 Introducing the world's most advanced self-growing garden that hangs on your wall. The HydroArtPod is the next leap in indoor gardening solutions, designed to deliver you tasty, healthy, chemical-free veggies and herbs all year round.
No Pests or Bugs. No Chemicals or GMOs. No dirty hands. No plumbing.
It's your fully-automated solution.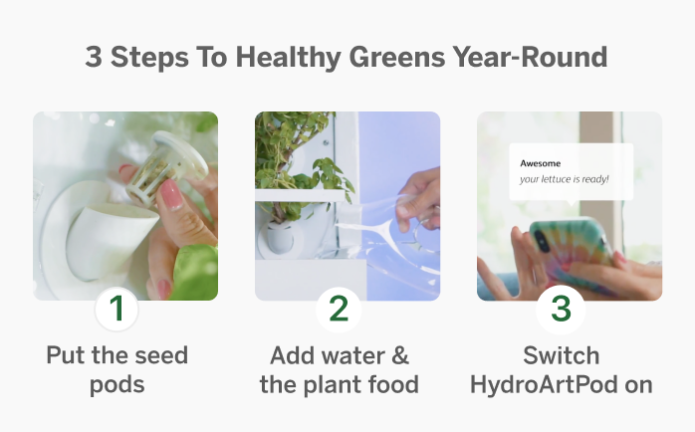 Many people think they need a huge plot of land with acres and acres to grow anything edible, but this isn't true. You can easily have a healthy garden in any space you have. With HydroArtPod.
The beauty of HydroArtPod is how it's incredibly simple to use. Whether you have a green thumb or are a complete beginner, you can grow healthy and delicious produce anytime.
Insert the seed pods
Add water and the included plant food
Switch HydroArtPod on
And that's it! In under 48 hours, you'll start seeing results. Watch your garden grow and enjoy delicious chemical-free greens all year round.

HydroArtPod is a thriving hanging garden on your wall. With full-spectrum LED grow lights to boost plant growth, a 2.7-gallon (10-liter) tank for hassle-free self-watering, and 2 precision sensors enable continuous plant monitoring and growth optimization.
Grow 30 chemical-free herbs and vegetables simultaneously. Or rotate your crops for a continuous year-round supply!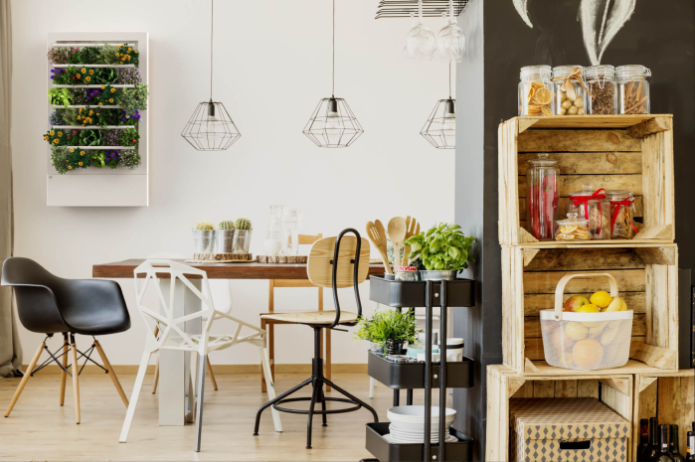 Produce from the grocery store can be days old, sprayed with harmful chemicals, and wrapped in plastic.
HydroArtPod is the perfect way to get your daily dose of super-fresh and vitamin-rich vegetables. You've likely heard of "farm-to-table" — with HydroArtPod, you control the entire process, from seed to harvest. This is wall-to-table.
Know what you're growing. And enjoy eating 100% non-GMO, nutritious, chemical- and pesticide-free vegetables and greens at home — all for the relative cost of one store-bought lettuce a day.

With HydroArtPod, you can grow what you want. Choose from our large selection of certified organic seeds. Our entire collection of hand-selected seeds is GMO-free. With new varieties becoming available continuously. Unused SeedPods can also be stored unopened for up to 12 months for later use.

HydroArtPod will alert you when to feed your plants. Just toss in the pre-measured food pods when the app tells you to provide your plants with complete nutrition, for every stage of growth.
The diversity of organic sources in our NuTrioPods delivers a balanced blend that supports the development of plants and the growth of beneficial microorganisms, which is responsible for creating an abundance of flavors.
There are no pesticides, fungicides, insecticides, plant hormones, or other suspicious substances involved throughout the entire growing process.

HydroArtPod, the first-ever fully-automated indoor gardening solution, removes the guessing and hard work of growing plants by automating the entire indoor gardening experience. All you need to do is turn it on, and the HydroArtPod will take care of the rest — providing your plants with the right amount of light, water, and nutrients.
And with the companion app you can monitor, adjust and effortlessly grow your delicious herbs and vegetables from the comfort of your couch.


The HydroArtPod's smart sensor system knows when to turn off and on the LED lights, add plant food, circulate the water towards plant roots, and determine each plant's required action.
The app will alert you when your vegetables are at their peak to eat. And will let you know about what little input it requires from you.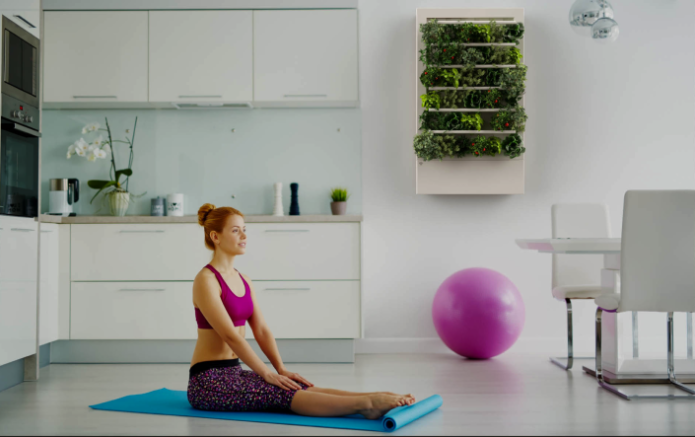 The HydroArtPod is a low-maintenance, cost-effective vertical garden that takes care of itself – all you need to do is add water to the tank once a week, and add nutrients when notified by the app.
Stop worrying where your greens come from. Know you're always eating the best with HydroArtPod.

HydroArtPod uses a high-efficiency and high-quality water circulation system to keep your plants watered. The 2.7-gallon (10-liter) tank works automatically, but you can also fine-tune it manually. Its ultra-quiet pump runs only occasionally (2 minutes every 2 hours) to keep plants hydrated throughout the day and save energy.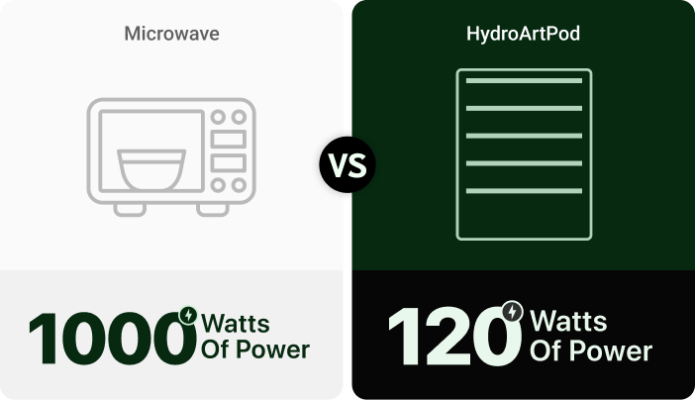 Indoor grow lights can heat up and quickly multiply your electricity bill. The HydroArtPod System is built from the ground up with energy-efficiency in mind. It consumes very little power and at just 35 watts, consumes 7x less power than your fridge, or about as much as a small aquarium pump.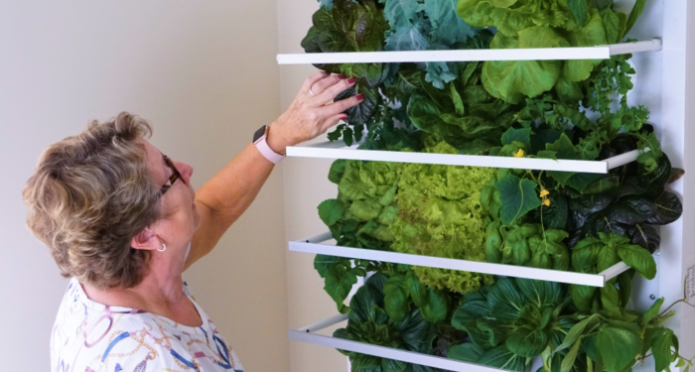 HydroArtPod comes fully assembled. Simply remove it from its packaging and hang it on your wall.
And when the time comes to clean your indoor garden and plant new greens and veggies, simply remove the old pods, wipe the spout with a cloth, and plant a new one. The water reservoir can also be easily removed for cleaning — just wipe clean every now and then.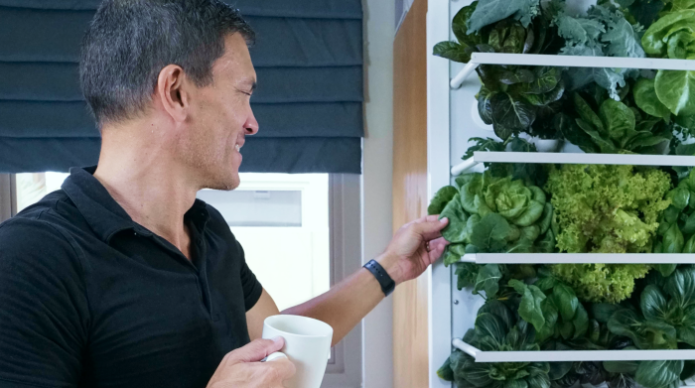 HydroArtPod's integrated high-efficiency grow lights, smart water circulation technology, and unique wall-mounted design enable it to produce 30 different large and small herbs and vegetables simultaneously, providing you with healthy and nutritious meals year-round.

HydroArtPod's plant-first design allows you to effortlessly grow herbs and leafy greens (as usually done with hydroponic gardens). And it takes indoor growing a step further, by giving you
a full system capable of growing larger tasty vegetables, such as tomatoes and cucumbers.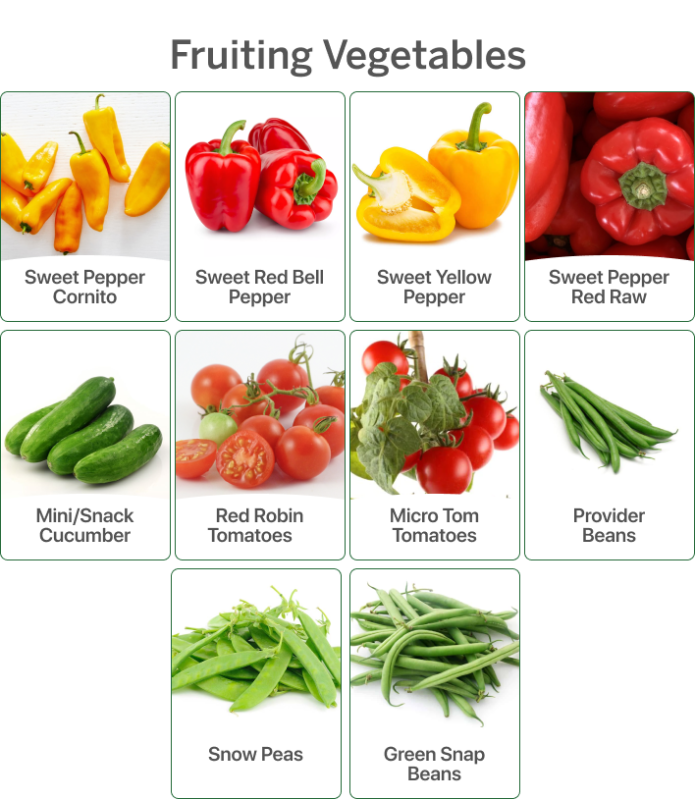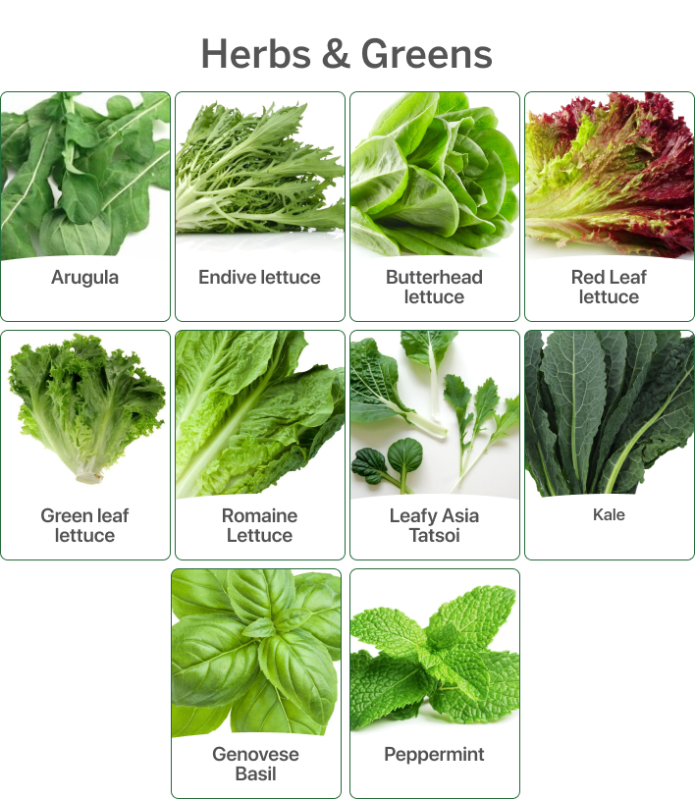 The HydroArtPod seed family is continuously growing, with new SeedPod varieties added every month. Each one is fully tested to grow strong and healthy before becoming available, so that you can achieve maximum success with your indoor vegetable garden.
Thanks to HydroArtPod's wall-mounted design, this indoor garden takes up very little space. You only need 10.7 sq feet (1sq meter) vertical space to grow 30 different herbs and vegetables.
Combining the minimalist design, clean lines, aluminum frame, and soft-white glow, HydroArtPod is not only a space-saving garden on your wall, but a true piece of art.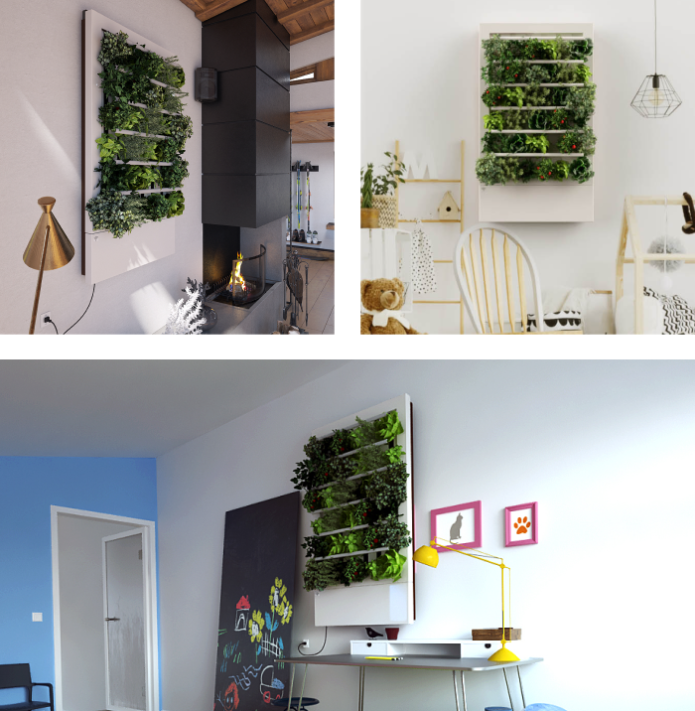 The sun-like, high-intensity Samsung LM301H LED lights cover the full spectrum of white light that helps plants thrive. Unlike flashy red/blue colors typical of other indoor grow light solutions, HydroArtPod's 3,500K (warm white) color temperature is extremely useful for plants' germination, growth, flowering, and fruiting stages — while also easy on the eyes!
Longer-lifespan. Less heat. And Energy efficient. So, not only do the plants in your garden love the light, but so does your electricity bill!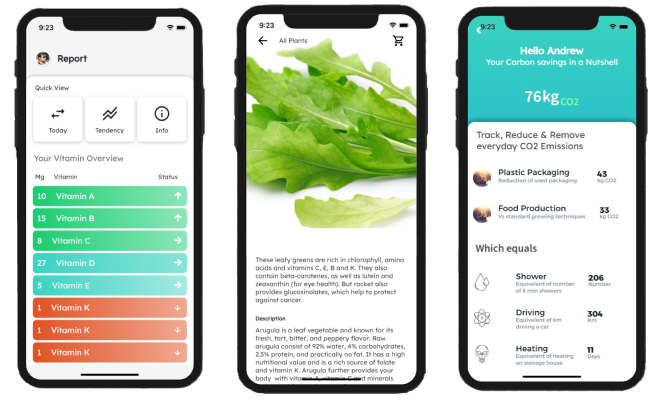 The HydroArtPod App is your companion in growing healthy and nutritious vegetables and herbs. It monitors your plants, optimizes water and light for them, constantly takes care of their nutrition levels, and gives ongoing reports on their growth.
Just select the plants you're growing, and let the app do the rest. You can even activate the vacation mode and stop stressing about your garden when away!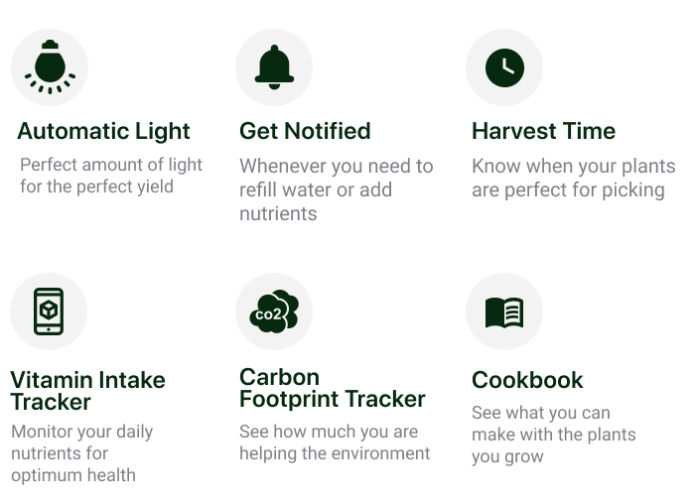 The HydroArtPod App is designed solely for HydroArtPod backers and future customers. The application doesn't require any sort of subscription payment. It's 100% free for all HydroArtPod users.



Typical indoor growing solutions can be challenging to use. They offer you more control and freedom, but increase the amount of effort you need in order to grow even the simplest plants. And also increase the chances of something going wrong…
If you think keeping a garden is too much work, you haven't experienced the ease of HydroArtPod yet. This fully-automated wall garden takes care of everything for you, from watering to delivering sufficient light. You can even choose from a variety of plants to grow, making it the perfect addition to any home.