Portable Design | 8000RPM Motor Speed | Dual-Head Design | IPX6 Waterproof | 1 Charge = 30 Days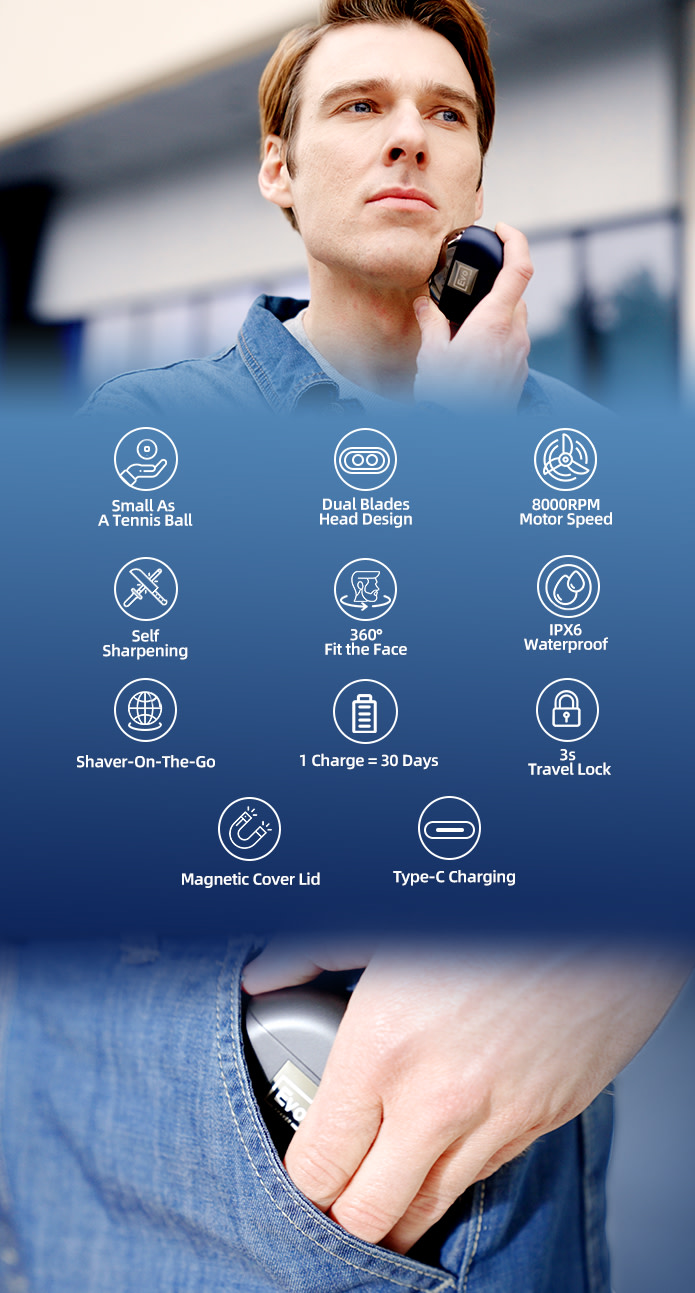 EVO Shaver 2.0 combines all the best performance of functions that you require. We put users' needs at the forefront and keep them at the center of the EVO Shaver 2.0 design. EVO Shaver 2.0 was created to give you the best whole new shaving experience, it emphasizes the smallest and lightest minimalist design. The whole body of EVO Shaver 2.0 is IPX6 waterproof that you can directly rinse the entire shaving unit, shaving head and internal hair chamber underwater. Unlike others' designs, EVO Shaver 2.0 is small but sturdy enough to withstand rough handling. And it is so compact and portable that you can simply put it in your amenity bag and take it with you or check it in.
Compared with EVO Shaver 1.0, the upgraded version of EVO Shaver 2.0 features a double-ring floating shaver head. The head of the razor can float up and down with the contour of the face and head, to more fit the facial shape and make the shave smoother. With the optimized features and also upgraded speed from 6000RPM to 8000RPM, the sleek, modern design of the EVO Shaver 2.0 offers an extremely stylish shaver that performs as well as looks.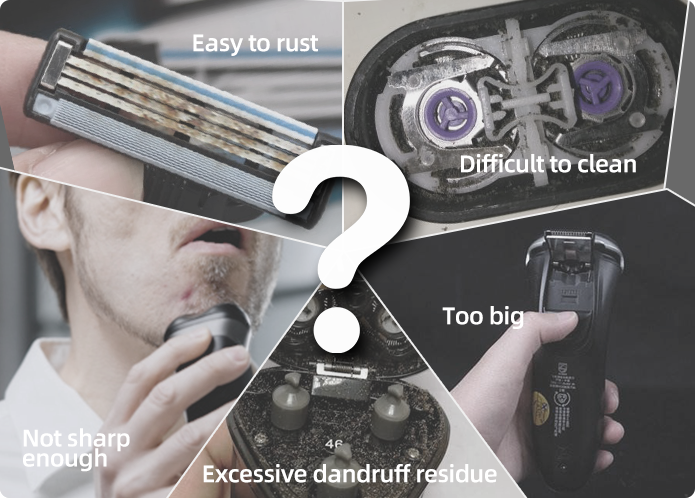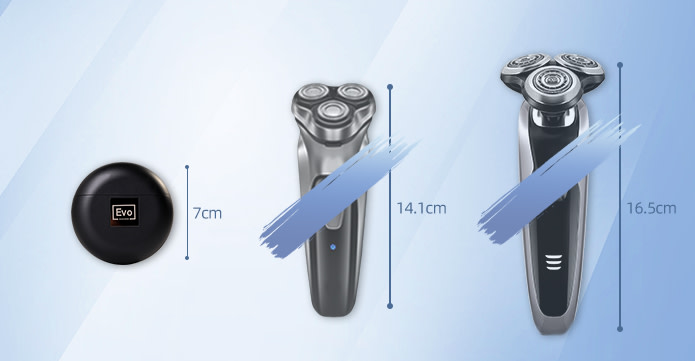 It's already 2022! Are you still using a traditional shaver that is big bulky and inconvenient to carry?  The compact portable EVO Shaver 2.0 lets you shave and look sharp anywhere anytime. In just a tennis ball size, bring it along with you wherever you go and can even put it in your pocket. With the integration of the powerful motor, 2 flexible blades and rechargeable battery into a small size, EVO Shaver 2.0 is smaller than a tennis ball without the need for external accessories. Pack it in your Dopp kit before you go!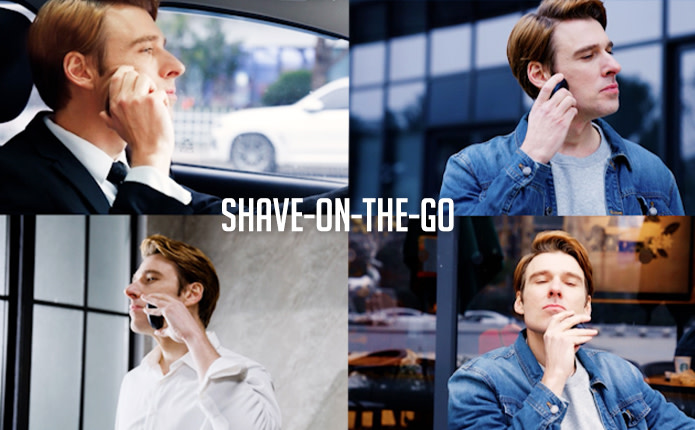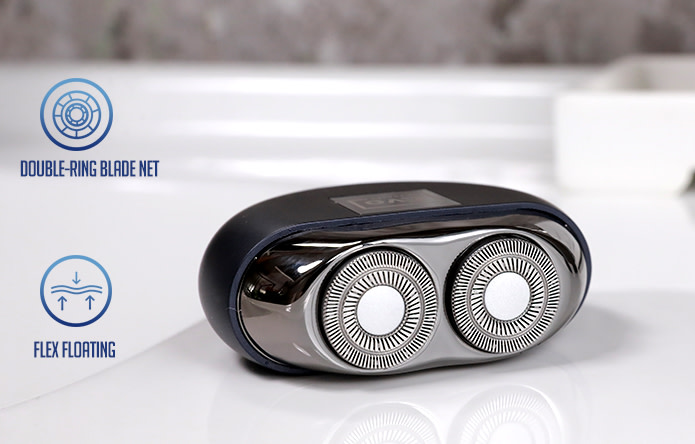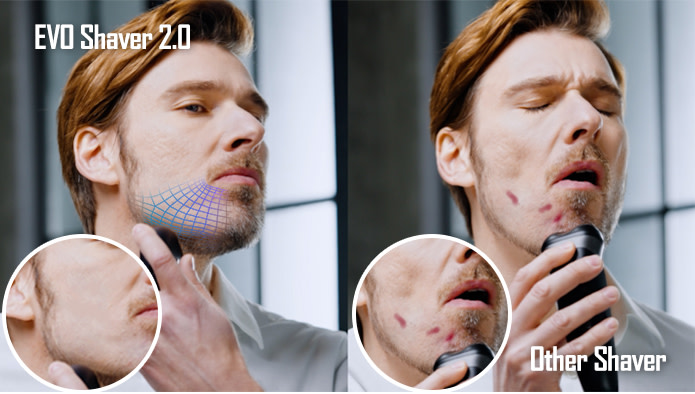 EVO Shaver 2.0 fits different face types and contours. Come with an independent floating dual blade head, it can glide over your skin more comfortably, safer and smoother. Enjoy refreshing beard shaving without dead angle. Durable and sturdy. The flexible floating blade head of EVO shaver 2.0 can float up and down, which can easily cope with complex facial contours. The blade head floats inward forming V-shape that solves the prominent facial parts and shaving corner, and it floats outward to effectively shave the corners of the mouth and sideburns, etc. The unique design of the EVO Shaver 2.0 blade head can be suspended and floated, buffering the pressure on the face. Bringing you a comfortable and smooth shaving experience. With EVO Shaver 2.0, get the perfect clean-shaven look!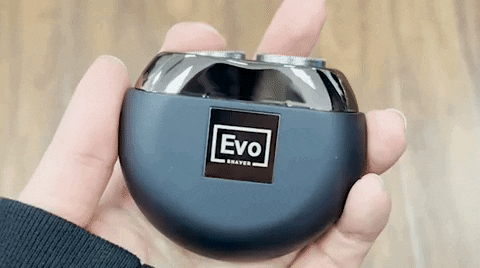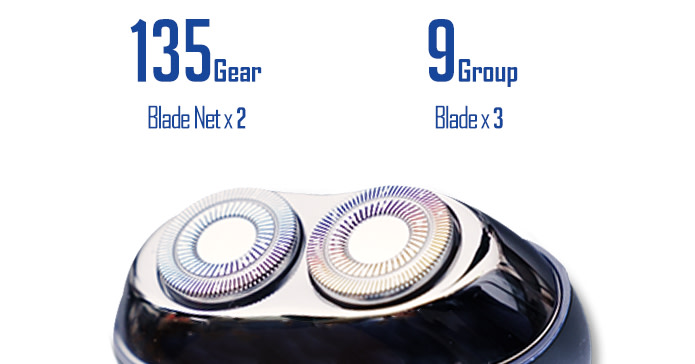 Match with double-ring blade net could increase the contact area with the face and cover more area all at once. Pick up 50% more beards than single-ring blade net and increase the amount of beard entry in one go. It also improves the shaving speed effectively. The ratio of inner and outer ring blade net teeth to the number of blades is 1:2, which effectively balances the shaving frequency and efficiency of the inner and outer rings.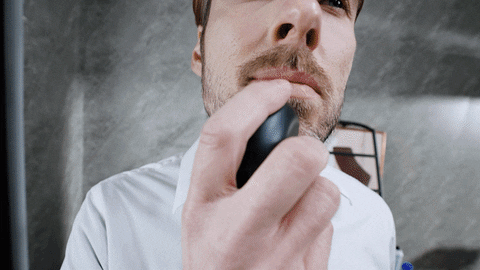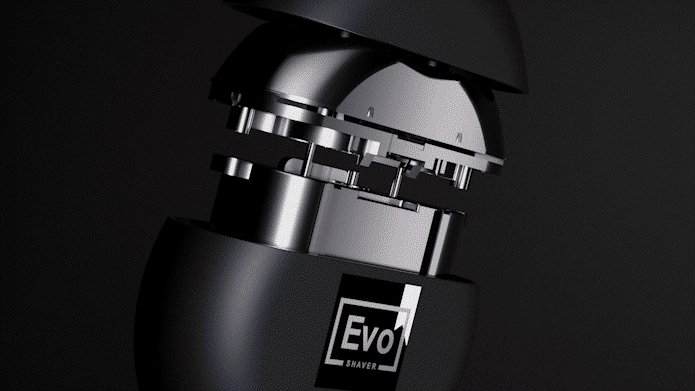 Most portable electric shavers only come with a single blade that does not fit the face and always leaves stubble. EVO Shaver 2.0 comes with dual flexible blades that will protect you from cutting yourself. EVO Shaver 2.0 is equipped with an 8000RPM high torque motor, double the speed of standard electric shavers. This technique helps in reducing shaving time significantly. Offer you a more powerful shaving. Reduce repeated shaving. Ensure getting it done in one go. Offering you a completely new experience of smooth, safe and fast shaving.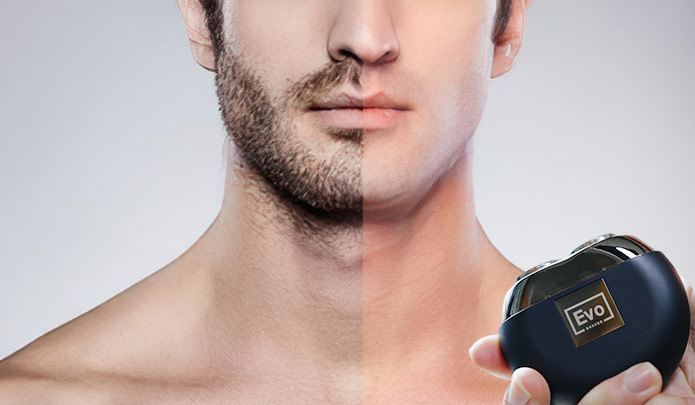 Shaving Test: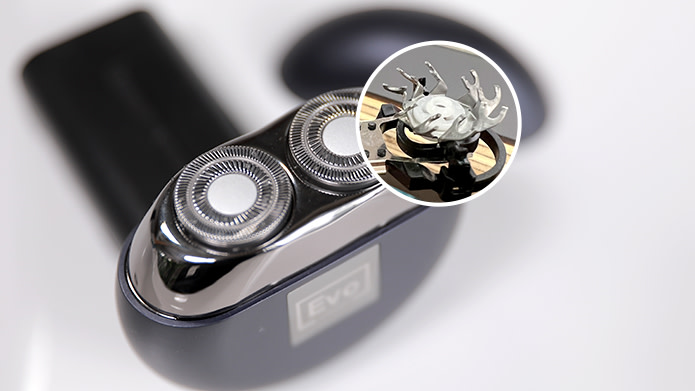 Automatic grinding technology, the blade and mesh will grind each other during every shave, so that blade lasts sharp without frequent replacement of the head.
How to remove the blade: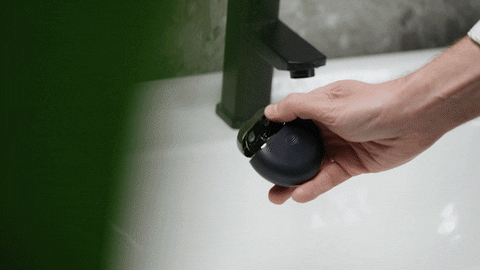 It's very hard to clean shaver with hair, shaving cream and dirt getting stuck inside. Dirty shaver blades can spread infections if they are not cleaned properly for a long time. Therefore, it's important to get yourself an easily clean shaver. Having a clean shaver will help to keep the blade sharp, giving you a closer and smoother shave. EVO Shaver 2.0 is washable and IPX6 waterproof for convenient use in the shower. To clean the shaver, simply twist to open the shaver blades' mesh foil cutters and rinse them under running water. Or remove all the hair debris from the blades with the brush provided. Easy peasy!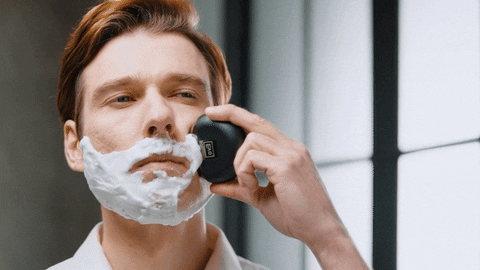 EVO Shaver 2.0  is IPX6 waterproof so that the whole shaver can be washed directly with water. The full shaver body is washable for easy cleaning. With its sealed structural design, it can be used under wet conditions and is best for the shower.  Both dry or wet beard shaving are available. Unlock more usage scenarios with EVO Shaver 2.0!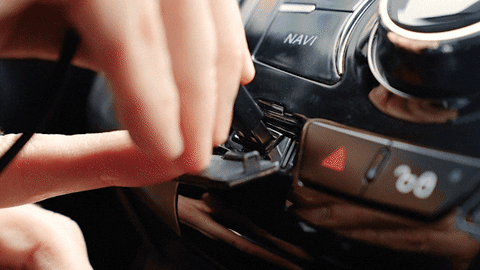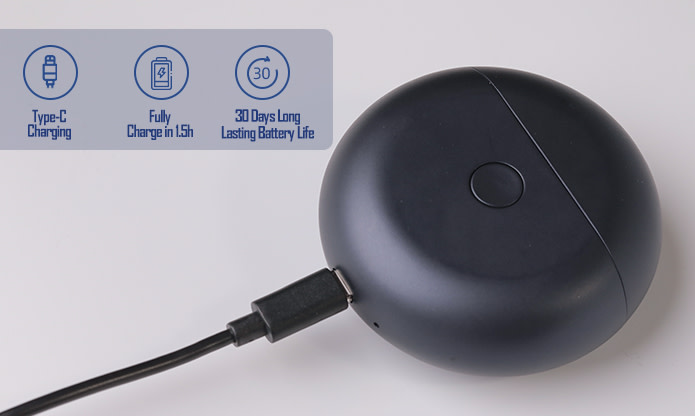 EVO Shaver 2.0 has a rechargeable built-in lithium battery with excellent battery life and leak-proof properties, combined with a super low-friction motor that saves power. Long-lasting battery life on a single charge lasts you about 30 days with an average amount of shave. You don't even need to charge when traveling! EVO Shaver 2.0 can be easily rechargeable with a USB-C cable connecting to a wall charger, power bank or even your laptop. Only takes about 1.5 hours to fully charge. Moreover, EVO Shaver 2.0 allows you to shave with the cord plugged in. This can be convenient if the battery is completely drained. From now, with EVO Shaver 2.0, you don't have to worry about changing your shaving routine no matter where you are!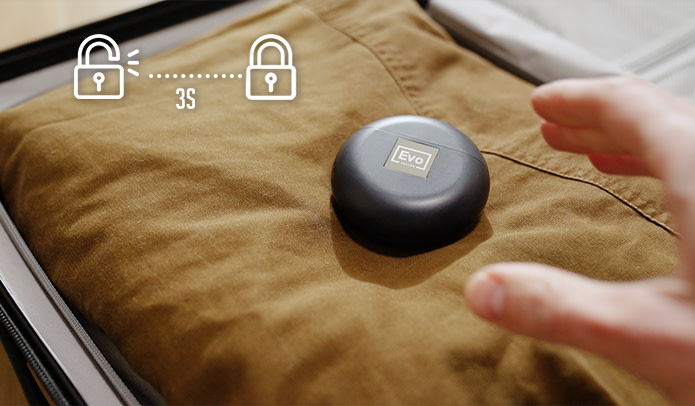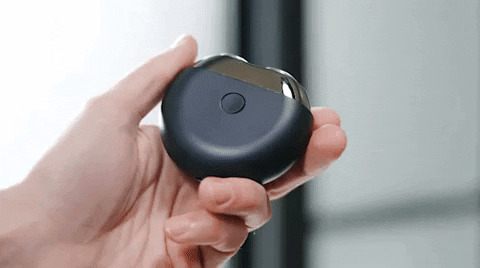 Press and hold the power button for 3 seconds to enable the travel lock mode, which will prevent the EVO Shaver 2.0 from accidentally being turned on while in your bag or pocket. To unlock, just press and hold the power button again for more than 3 seconds. This feature helps to reduce accidental touch and gives you peace of mind.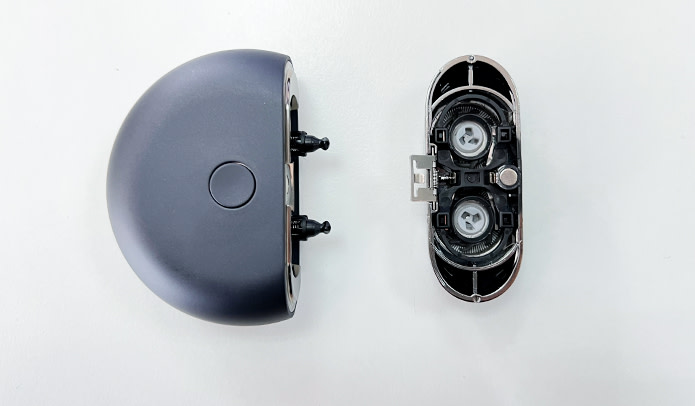 Simply hold the shaving head of the EVO Shaver 2.0 and take it apart to one side. Super easy to disassembled. Offer a fast, flexible, effortless and hassle-free way to clean the shaver.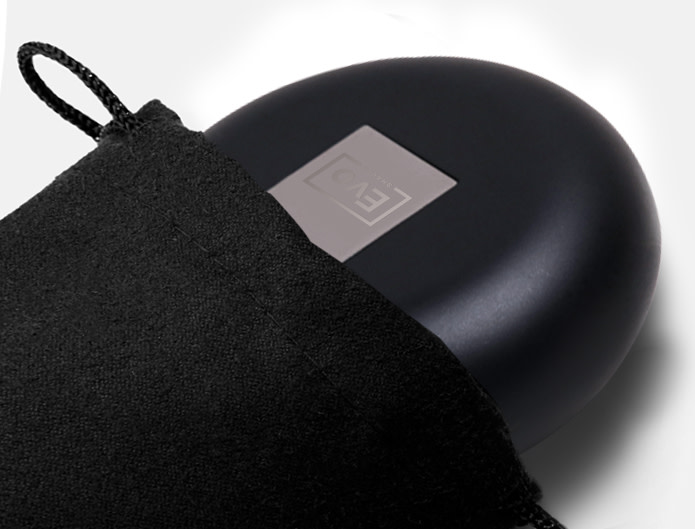 EVO Shaver 2.0 is equipped with a portable storage bag for various travel needs. Put your shaver in the storage bag to keep it clean and protect your device from bumps, damages, dents and scratches. Makes it easy to carry around when you are on the go, no matter when you are traveling or on a business trip!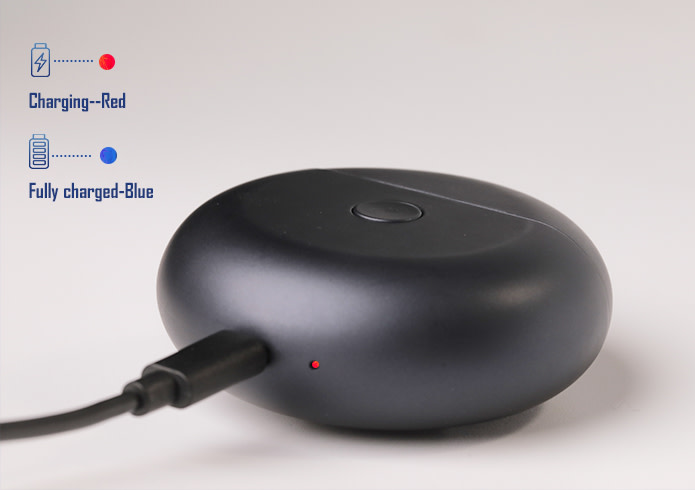 A flashing red light on Evo Shaver 2.0 indicates that the battery has a low state of charge and needs to be charged in time. Solid red means it is being charged, blue means it is fully charged.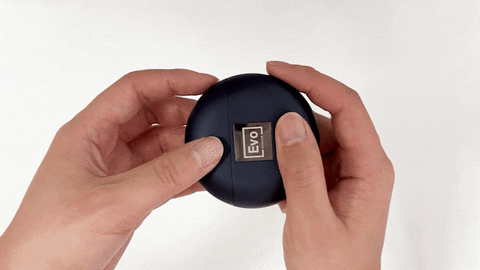 The magnetic cover lid of the EVO Shaver 2.0 is designed with an attached magnetic closure, making it easy for you to remove and snap back on. Enabling the easy-to-put-on but hard-to-fall-off experience. No need to worry about it falling off in your pocket. Protect your shaver on the go!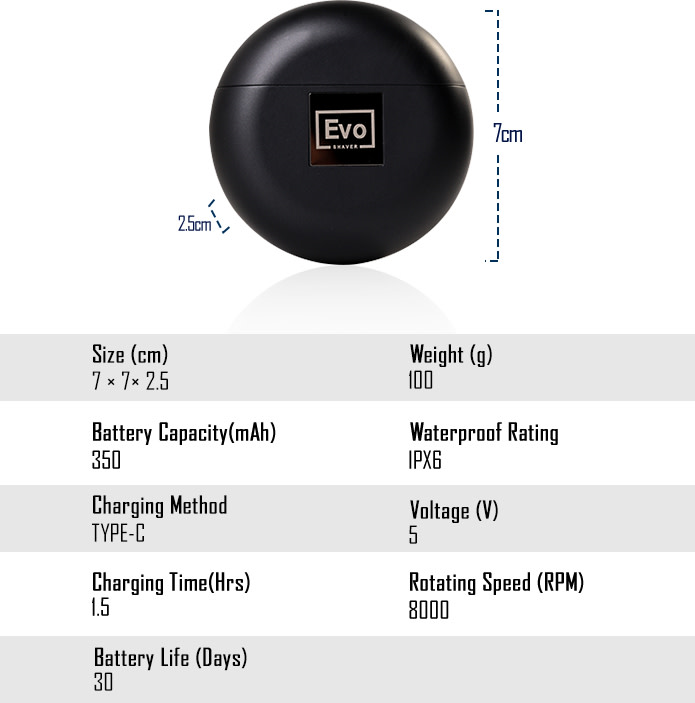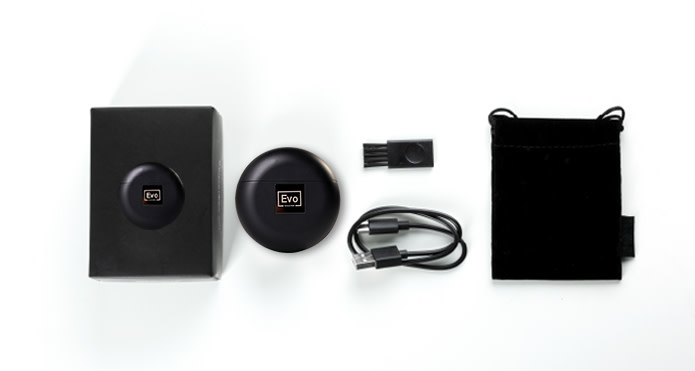 Shaver x 1
Storage Bag x 1
Cleaning Brush x 1
Type-C Charging Cable x 1​