240W 6Ports GaN USB Charger With Real-time Wattage Panel that can fast charge 6 devices
EGO EXINNO 240W- The King of USB Chargers!

240W 6Ports GaN USB Charger With Real-time Wattage Panel
Almost all adapters in the world are a similar, boring cube shape.
We think charger designs ought to have a bit of style too.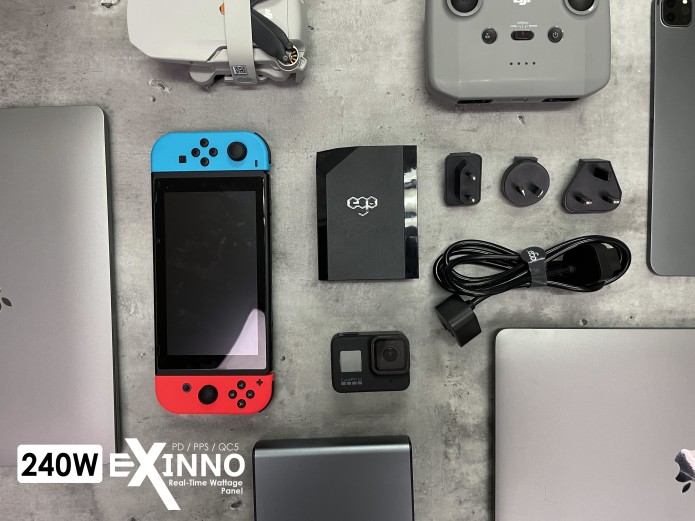 Introducing: EXINNO – The Most Powerful & Smallest 6 Ports 240W GaN Charger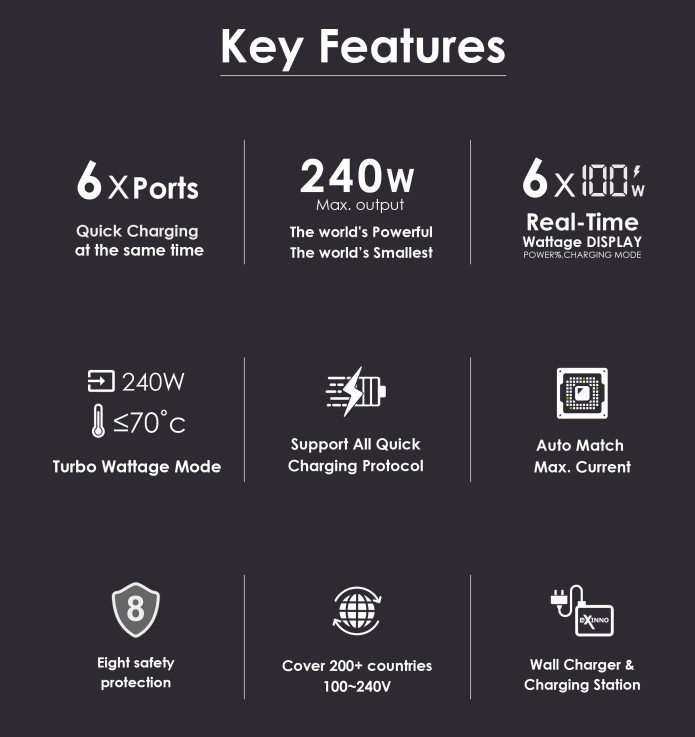 1) The world's highest output and smallest charger at 240W
2) The world's first 6-port USB with real-time wattage display
3) The world's first all fast charging 6-port USB charger
4) The world's first USB charger supporting QC 5
5) The world's first USB charger supporting all fast charge protocol
6) The world's first 6-port fast charge simultaneously 
The world's highest output USB charger. Turbo output at 240W
Charger contains 6 USB ports: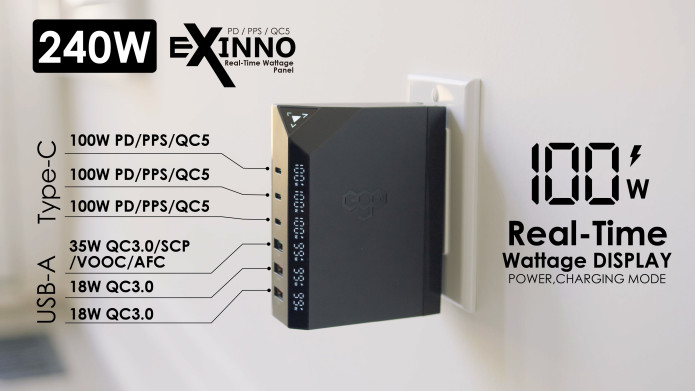 USB-C 100W X3 (PD3.0, PPS,QC5)
USB-A 35WX1 (VOOC,SCP,QC3.0,AFC…)
USB-A 18WX2 (FCP,QC3.0…)
 Test Video:
Demo of all functions , plugs and extension cable
Test results for Exinno 240W output performance and temperature changes over 30 minutes
Vs Omega 200W temperature 87 degrees
1) The actual output wattage is 232W, 8W has been spared during conversion and transport through cables and other components. The overall conversion rate stands at 97%.
2) The first 20,000mAh power bank completely charged in the first 26 mins, and starting to slow down, and unnecessary for further testing.
3) Exinno's temperature remained at 50 degrees Celsius after maximum output for 30 minutes. EU CE and U.S. FCC safety standard is 75 degrees Celsius.
4) To maintain such a low temperature charging environment, 4x GaN IC have been employed.
5) At 3:42, Omega 200W temperature test is at 87 degrees Celsius

Exinno's 6 USB ports are each equipped with independent fast charging chips. When 6 ports are utilized at the same time, they can all enter the fast charging state.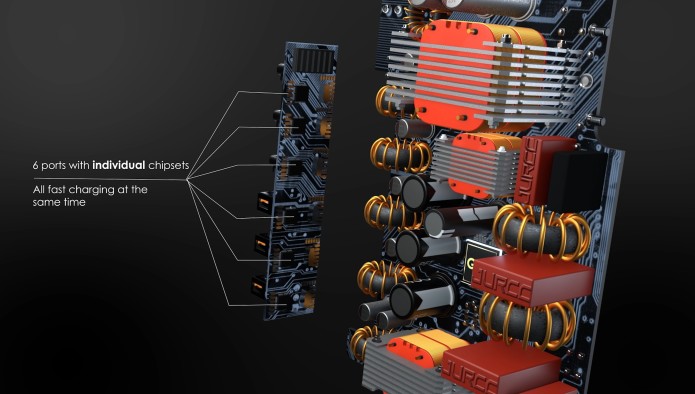 6 individual fast charging chips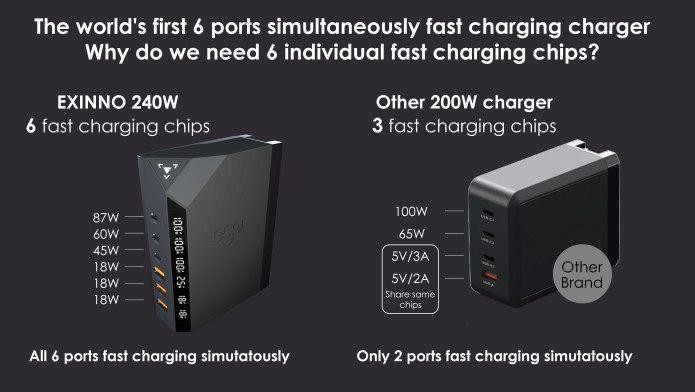 You can fast charge up to 3 computers and 3 mobile phones at the same time, saving desktop space.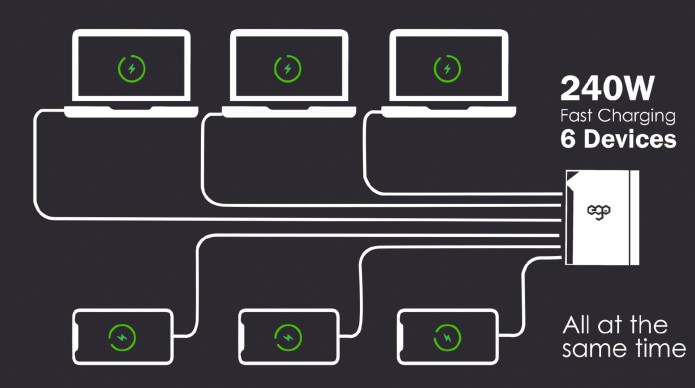 Why is EXINNO the world's first 6 port simultaneous fast charge charger?
Making a 6 port fast-charging USB Charger is very challenging ,because in addition to the expensive cost of 6 fast-charge chips, there is also a complicated power formulation.
6ports X 6 voltage X over 7 Quick charge protocols =252 distribution
Complicated power formulation

Many people have experienced problems such as damaged charging cable, a non properly connected charging cable, forgetting to turn on the power, an AC adapter that does not support the charging mode,a device not charging, or unexpectedly slow charging speeds.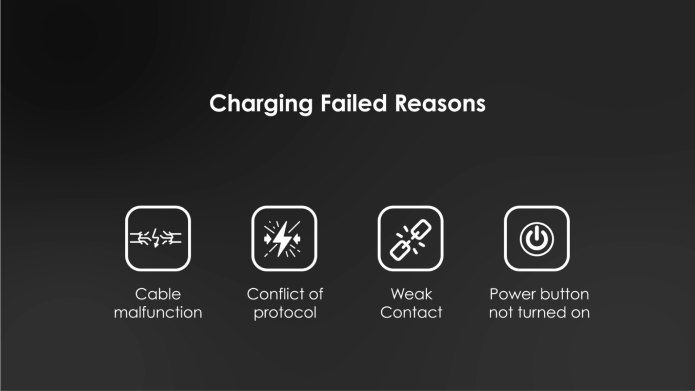 EXINNO incorporates an iconic design in this digital age with a real-time LED wattage display panel.
Each charging port has a real-time charging wattage display that is updated 3 times per second and a fast-charging status indicator.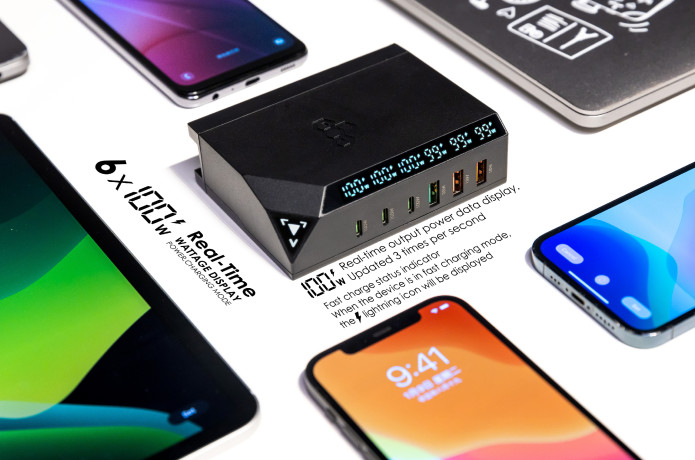 The wattage display allows you to monitor the speed at which your device is charging at. There is no need to check if each device is charging, it is clear at a glance.
Horizontal display mode
The display panel bends at a specific angle to facilitate optimal reading. You can clearly know the power distribution status of each port and arrange the devices which need the most power to charge at the fastest ports!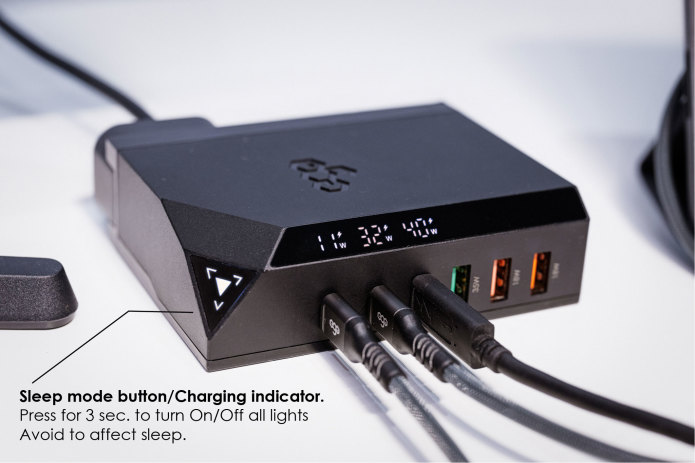 EXINNO is the world's first 240W Gallium Nitride (GaN) charger in a small pocket size. It is the world's smallest 240W charger and is up to 70% smaller than traditional chargers.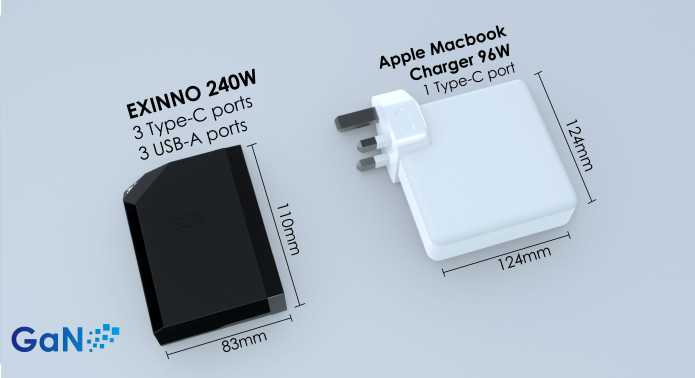 The size of EXINNO that will ship matches the scale shown in pictures and videos. We commit to the size exactly as shown.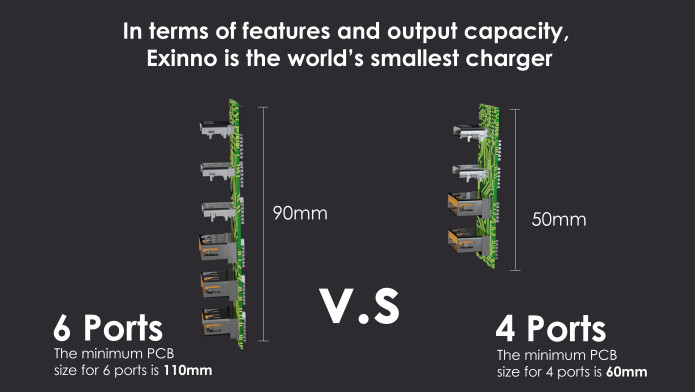 Exinno is the world's first charger compatible with all fast charging protocols. You don't have to worry about non-support problems.
Exinno supports QC5 and also supports previous versions like QC4+, QC3, QC2, PD, PPS. It contains the most up-to-date fast charging technology.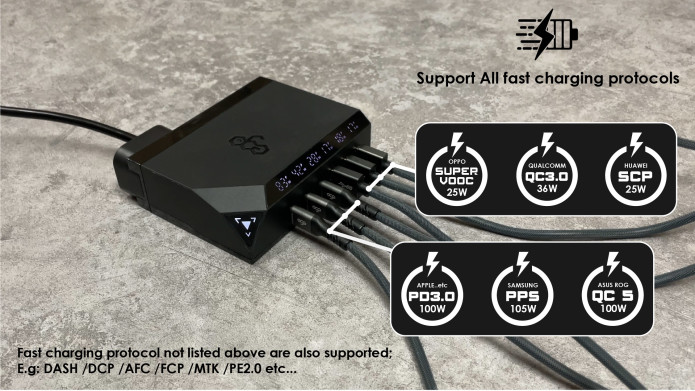 It also supports all fast-charging formats on the market: PD, PPS, QC5, SCP, VOOC, QC3.0, AFC, FCP,DASH,DCP,FCP,MTK,PE2.0
Exinno supports all USB-A and USB-C devices including Apple, Nintendo, Huawei, Samsung, SONY, ASUS ROG, and more.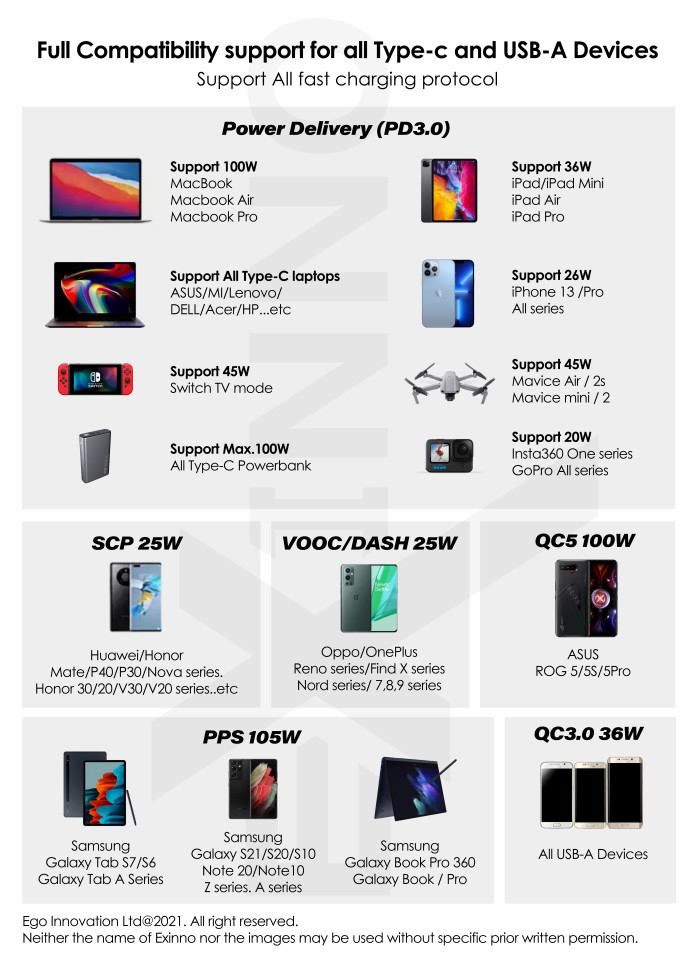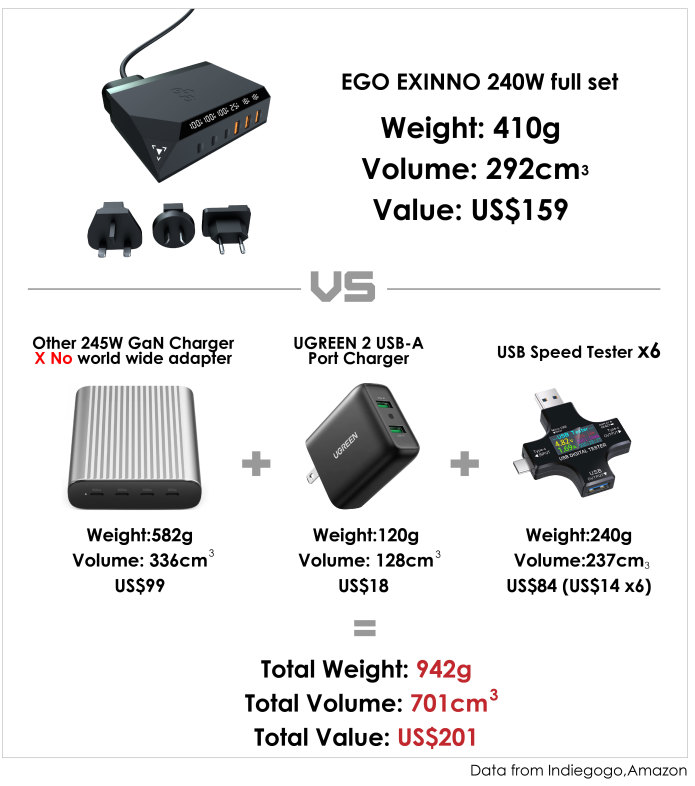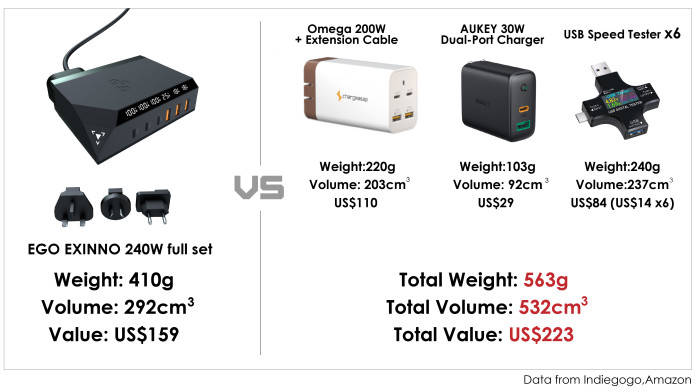 Despite the effort of envisioning, designing, and manufacturing this product, the benefits of combining all these functions and features together are priceless. The EXINNO charger puts more power in your hand while delivering extra value for your money.

The industry-leading Navitas GaNFast NV6127 and NV6125 Power IC Gallium nitride (GaN) is a new semiconductor material that switches 100x faster and has much lower resistance and capacitance than older and slower silicon chips. This means more power is delivered to the battery, charging it faster, instead of burning the energy as heat which results in the charger warming to the touch.
Faster (higher-frequency) switching means the energy storing passive components in a charger (transformer, EMI filters, capacitors, etc.) can shrink in size dramatically as they store much less energy in each switching cycle.
The Exinno is the first portable charger in the world to feature not one, but two GaNFast NV6127s and two GaNFast NV6125s designed by Navitas in Los Angeles, California. This enables the 240W power to be reached with minimal heat and maximum efficiency.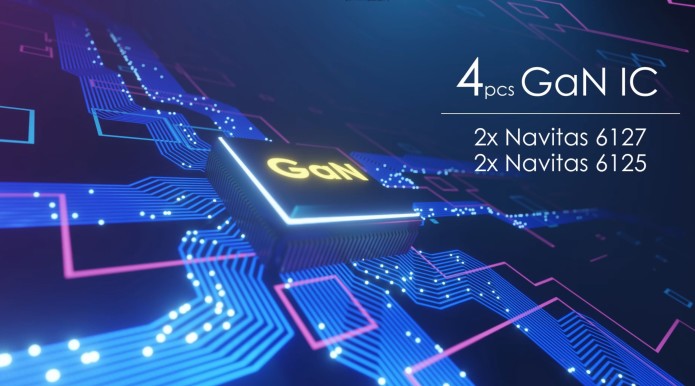 EXINNO contains the latest GAN semiconductor technology as of 2021. After years of development, GAN technology has become much more mature. We have designed 4 GAN chips inside the body to achieve maximum efficiency to control heat generation and reduce the overall size of the charger.

THE EXINNO Charger supports worldwide universal voltage (100v-240v) and comes with 3 different plug converters (AU/EU/UK) so that you can use it in 200+ countries worldwide.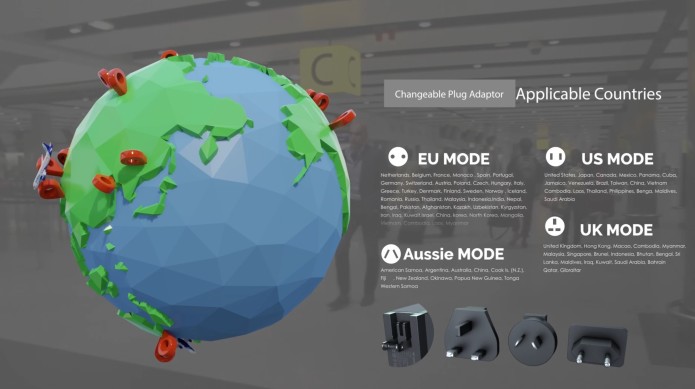 You can use the plugs on any U.S. 2-port plug from any device, providing convenience so you never have to bring travel adapters for any of your U.S. devices.

EXINNO can not only be plugged into the wall, but we have also specially designed a 150cm extension cable for more flexibility. It works with any adapter that comes with Exinno. This means you can charge EXINNO in any country with any commonly used extension cable worldwide.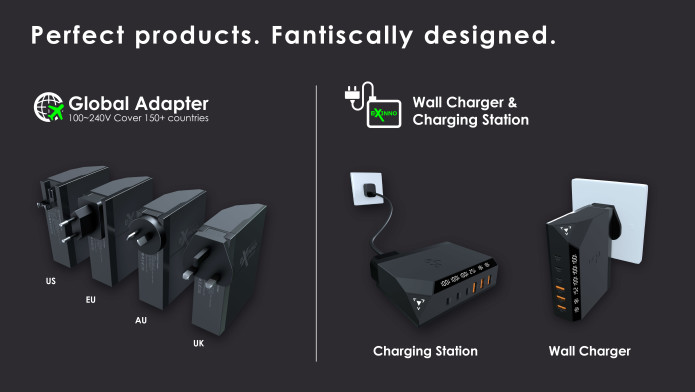 You are not looking for the cheapest, but the best quality & Spec. product on the market.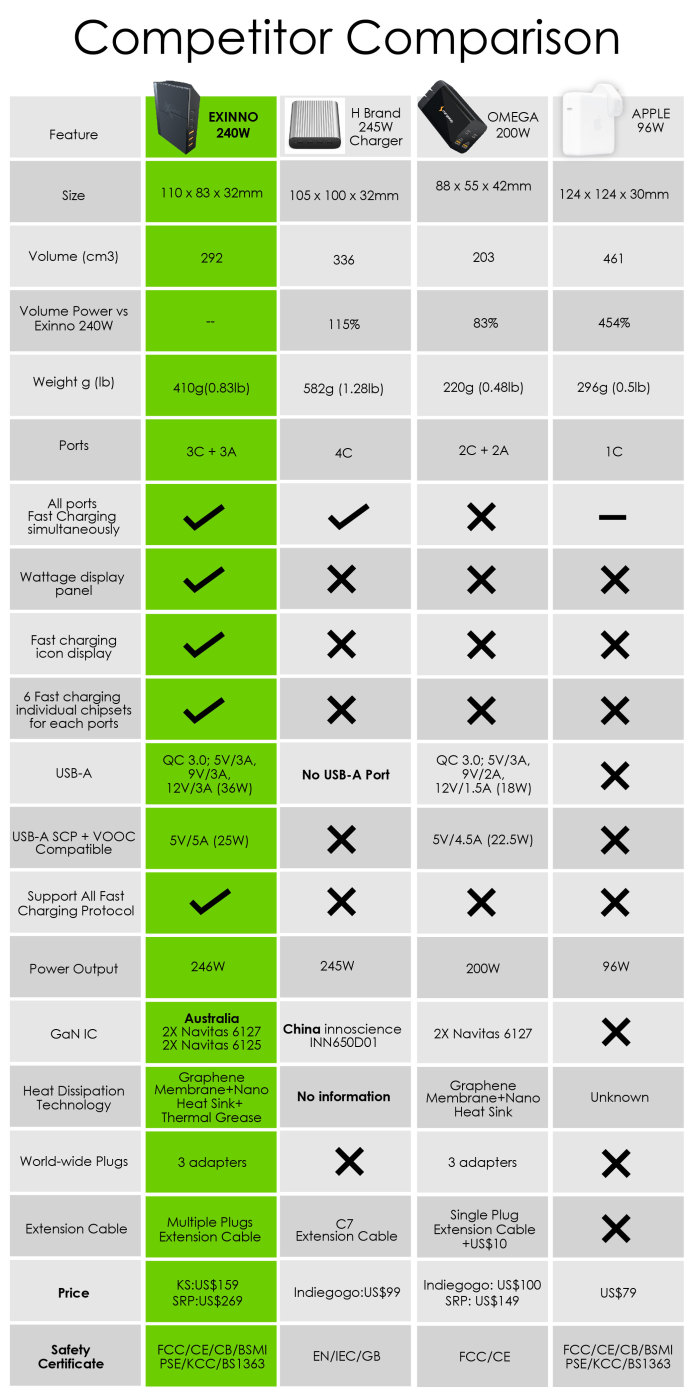 Due to the global pandemic and the closure of factories, the shortage of chips is very real and serious. It is causing the price of various materials to rise sharply.
To ensure a smooth shipment delivery, the price tag is higher than we originally estimated.
But we believe that you are not looking for the cheapest, but the best quality product on the market.

To be able to sell EXINNO smoothly in various countries, it will meet the highest standard safety requirement.

EGO INNOVATION LTD is not like other Indiegogo brands that  only sell products in online stores in which no safety certification is required.
EGO is a mature brand that holds brand identity registration and has been selling in brick-and-mortar stores in various regions for years. Therefore, our products need to comply with the safety certification requirements in these countries before they can be sold in offline stores.

Among them, the most complicated certification is the Taiwan BSMI certification. Even the individual screws used in our products need to have brand, material composition, and safety certificate disclosures.
Therefore, all the materials and parts used by EXINNO are of high quality, branded, and with independent safety certificates.
EXINNO contains 8 major safety protections.

Built to Protect at all time
EXINNO detects and prevents high temperatures, over-voltage, short circuits, and more with built-in protection.
 Turbo Wattage Mode:
The Turbo wattage mode will turn on when Exinno's temperature is below 70 degrees Celsius and can reach 240W.
Turbo mode can last for 1 hour and when the temperature rises above 70 degrees Celsius, it will drop down to 220W to protect the device.


Before we proceeded with production of EXINNO 240W GAN Ver., we had already mass-produced 120W Ver. and sold it in many regions. It was used as a test to examine 6-port distribution, trial-run production speed, and test the stability of LED panels. We collected lots of useful information during this period.
We can therefore ensure that the 240W version is more mature and stable.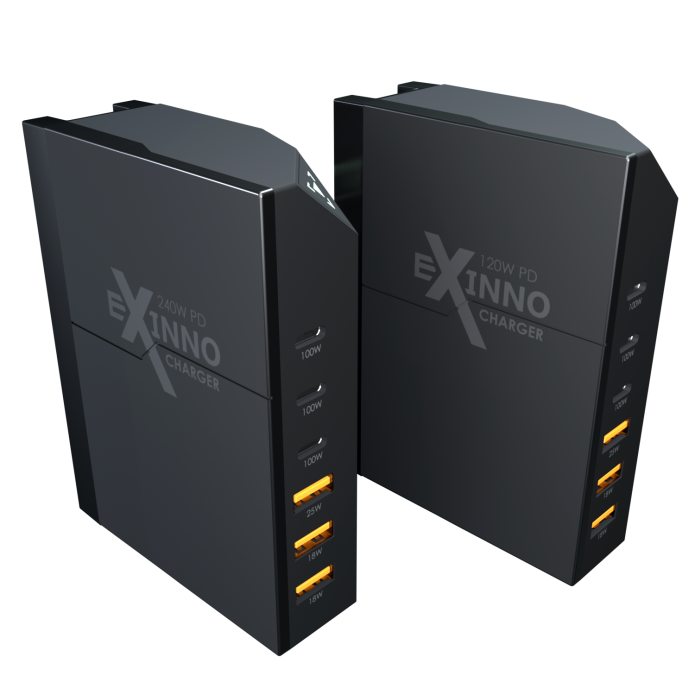 Both 120W and 240W versions can be purchased for this Indiegogo project.

EXINNO 240W GaN Charger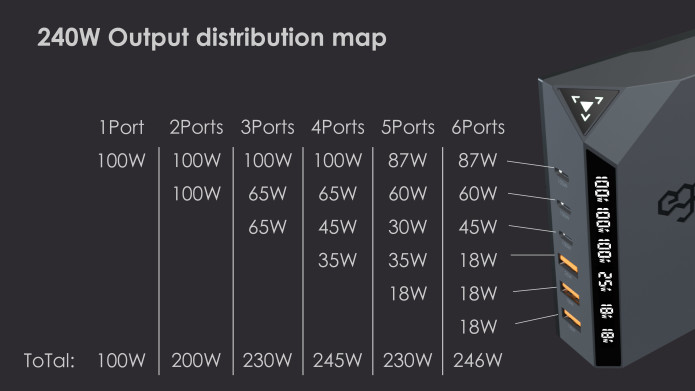 Model: EX220
PCB Ver.: V1.9 (2021-11-5)
Input: 100V-240V 50/60Hz  3.5A
Type-Cx3 Output :5V/9V/12V/15V/20V@5A (PD3.0 Max.100W)                                             3.3V~21V@5A (PPS Max.105W)                                                                    5V/9V/12V/15V/20V@5A(QC5 Max.100W)
USB-A1 Output : 5V/9V/12V@3A (QC3.0 Max. 36W)                                                                                        3.4V~5V/5A (SCP/VOOC Max.25W)
USB-A2,3 Output : 5V/9V/12V@1.5A (QC3.0 Max. 18W)
Total Output:   220W
Turbo mode Output: 240W   (Chipset run below 70°C)
Size: 110 mm x 83mm x 32mm
Weight: 410g
Contains: EXINNO Pro, Warranty, User manual, 3xAdapter,Extension cable
EXINNO 120W Charger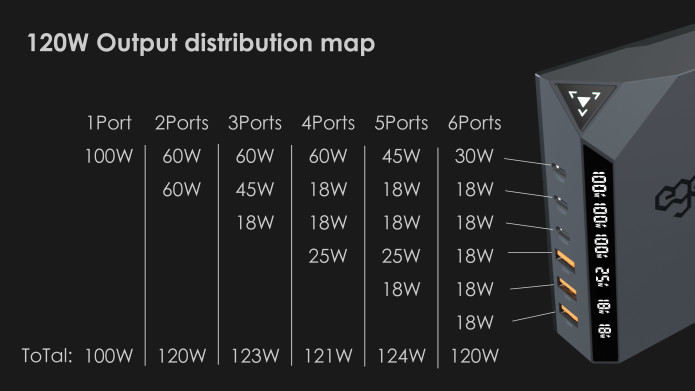 Model:      EX120
PCB Ver.: V2.4 (2021-9-27)
Input:      100V-240V 50/60Hz  1.5A
Type-Cx3 Output : 5V/9V/12V/15V/20V@5A (PD3.0 Max.100W)
3.3V~21V@5A (PPS Max.105W)
5V/9V/12V/15V/20V@5A(QC5+ Max.100W)
USB-A1 Output : 5V/9V/12V@1.5A (QC3.0 Max. 18W)
3.4V~5V/5A (SCP/VOOC Max.25W)
USB-A2,3 Output : 5V/9V/12V@1.5A (QC3.0 Max. 18W)
Total Output: 120W
Size: 110 mm x 83mm x 32mm
Weight: 357g
Contains: EXINNO, Warranty, User manual,3xAdapter,Extension cable