18,432Wh/5,000W/LiFePO4/8000W Max. Input/UPS/240V Split Phase/3 Years Warranty/Smart App

AC500 & B300S, the expandable power system, will definitely shift the way you harness the solar energy. It's designed to help you go through power outages, stay connected to unlimited energy wherever you are heading.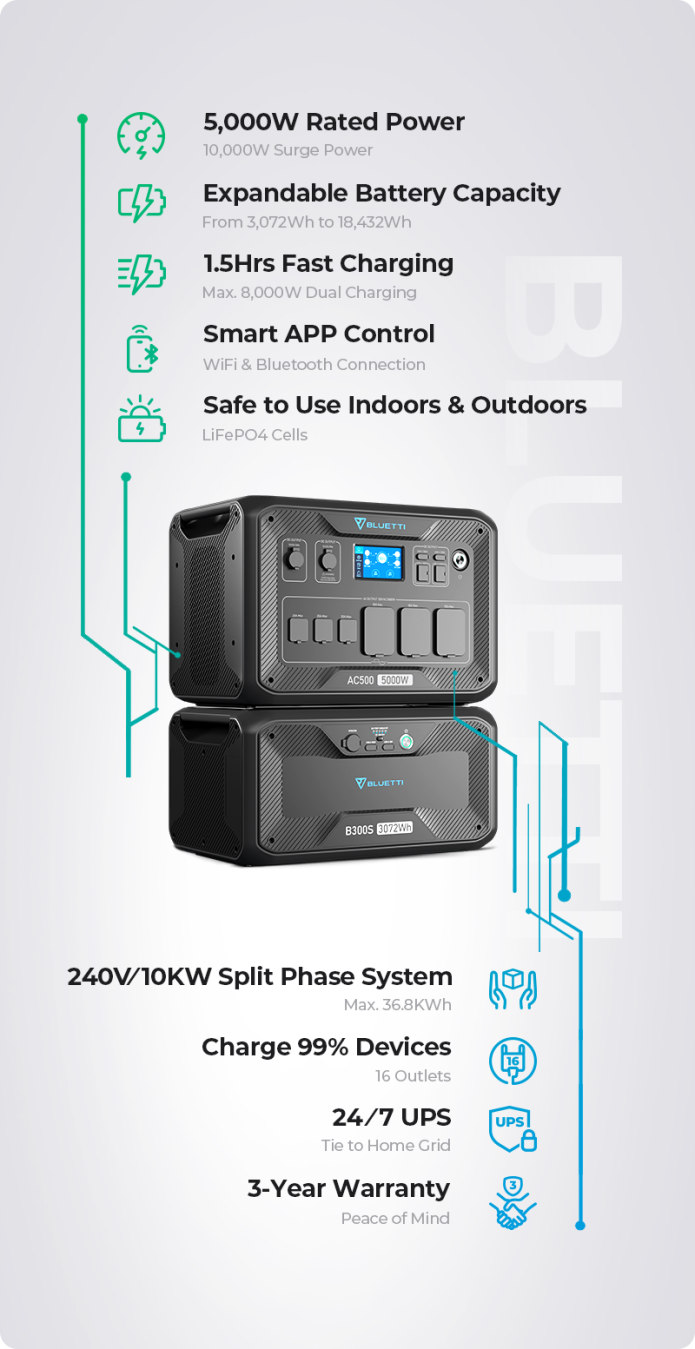 A worry-free solution to ease energy shortage and save your electricity bills.
Integrated to your home grid

 

by a transfer switch for a

 

power outage or regular use, the AC500 system can surely

 

cut down your electricity expenses.   
Unlock an immersive

 

RV or camping

 

experience with the sufficient power supply of AC500.
Power up all high-powered tools in your

 

DIY studio

 

with ease.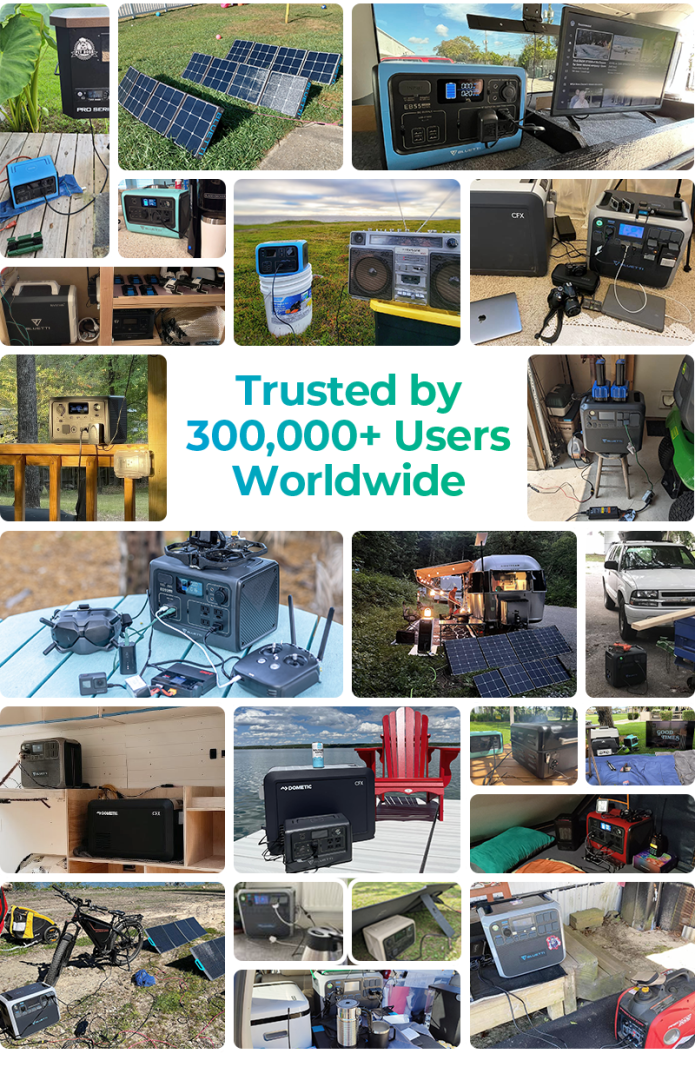 Over the past two years, we have delivered the award-winning AC200 and EP500P/EP500Pro units to over 10,000 backers, who supported us to kickstart a new power station revolution. This revolution continues as we adopt state-of-the-art technologies to improve our products and meet market trends.

Compared to all-in-one units, the modular design significantly shrinks the overall size and weight without losing flexibility. AC500 is 100% modular and can accept up to 6×B300S (3,072Wh each) expansion battery packs, adding up to an overall capacity of 18,432Wh – Power your whole family's basic needs for DAYS either in daily use or power outages!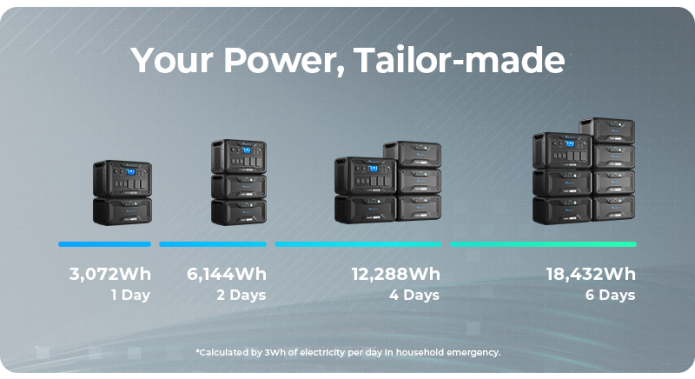 Besides B300S, AC500 is compatible with up to 4*B300 battery packs (3,072Wh each). More surprisingly, you can connect both models simultaneously to customize the capacity according to your particular needs.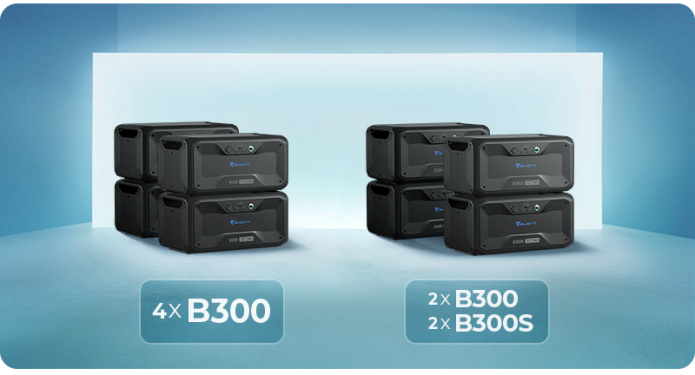 For those who purchased AC300+B300 combo while looking for higher AC output, they can just buy AC500 alone to work with B300, then get a 5,000W pure sine wave inverter.
* 3,000W AC output for AC500+1*B300, and 5,000W for AC500+2*B300 or more.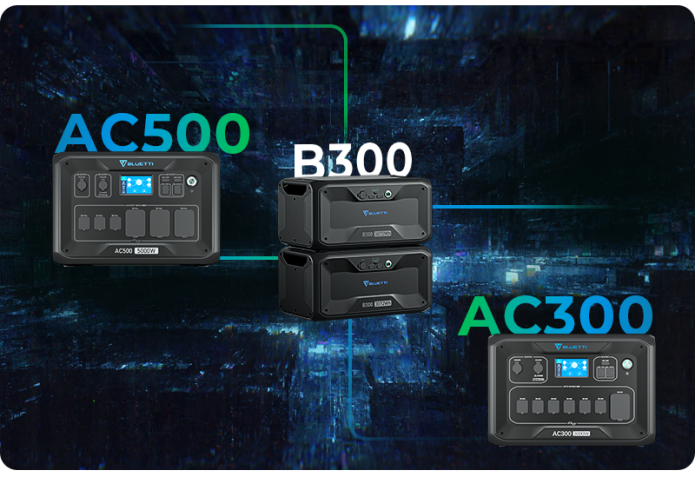 Being the first solar generator with 5,000W continuous output power, AC500 allows you to run multiple electronics simultaneously and even effortlessly run heavy-duty appliances, including air conditioners, heaters, ovens, cutting machines, etc.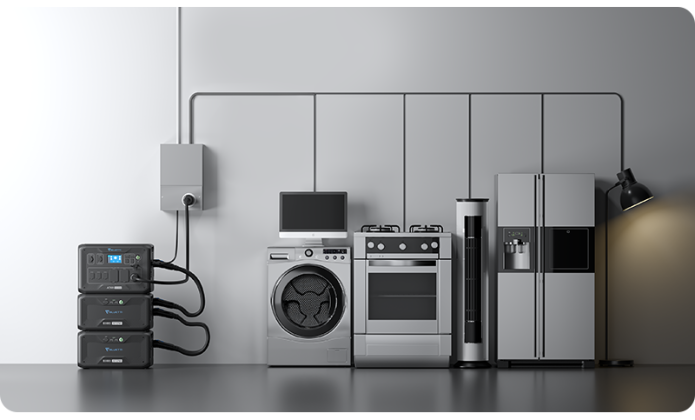 The "Split Phase Bonding Function" lets you combine two AC500 units (with at least 2*B300S or B300) for a massive 10KW output power if integrated into your home grid. 
Click here to learn more.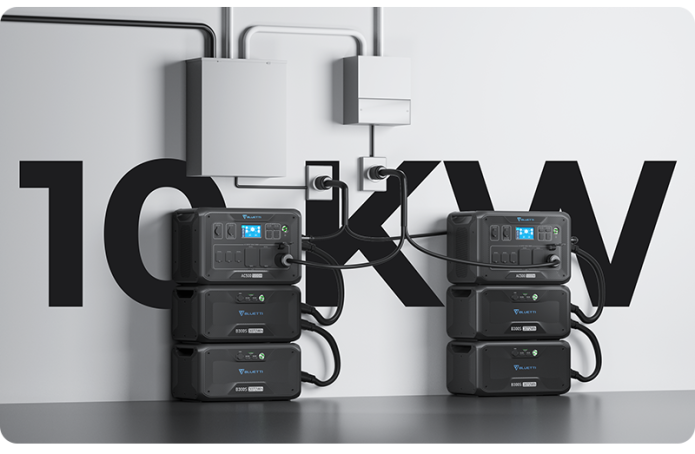 Or 7,200W by BLUETTI P030A Fusion Box (sold separately).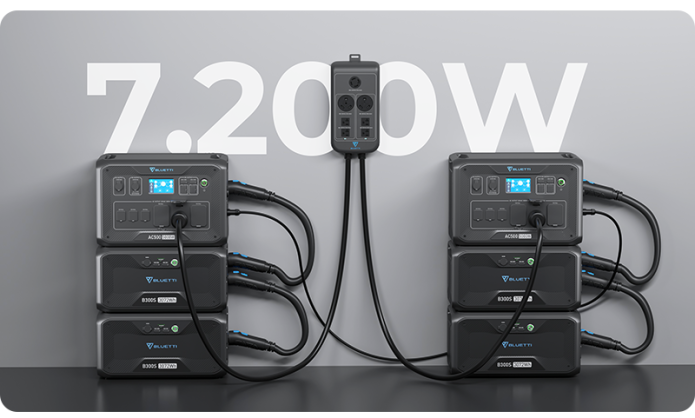 * The"Split Phase Bonding Function" is only valid for US Plug Version.

AC500 is equipped with 16 outputs for almost 99% of devices. Now, you can get rid of the messy adapters. In addition to L14-30 and TT-30, the 50A NEMA 14-50R, with 5000W power,  is specially designed for campers, DIYers, RV travelers, etc.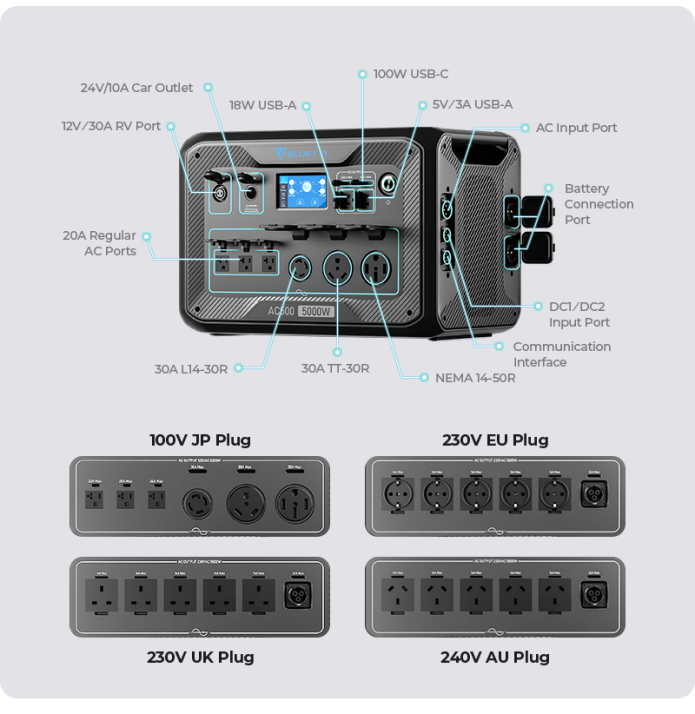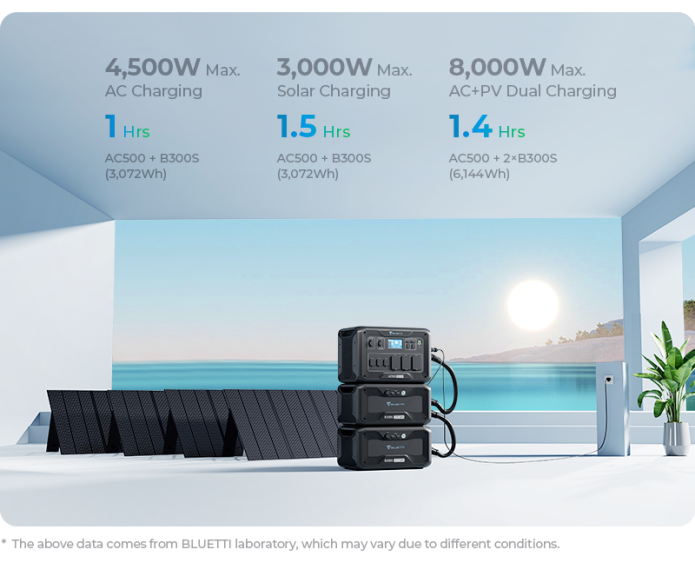 Waiting for recharging is never a pleasure. With the wall outlet and solar panels plugged in, the AC500 system supports up to 8,000W* impressive input rate. Get the system recharged before you pack up for the camping, and your power will be ready when you are.
*The 8,000W input rate requires at least 2*B300S packs.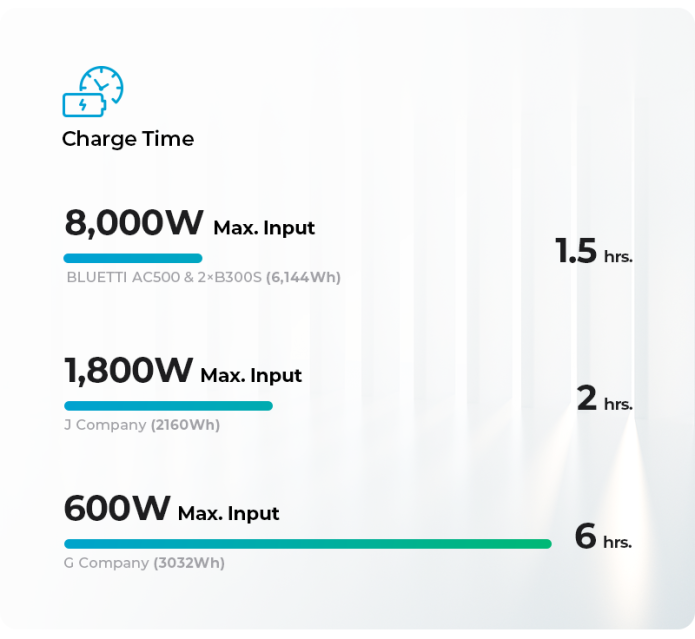 Charge in Any Way You Like
​No matter where you are, you can charge your AC500 system at any time.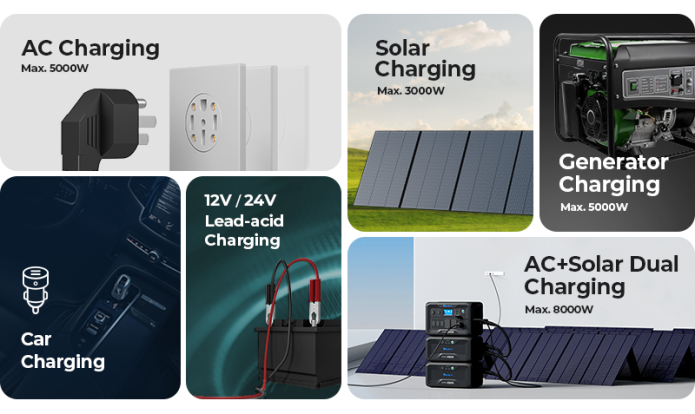 For those who intend to have a more off-the-grid lifestyle or take a longer trip into the wild, BLUETTI AC500 can handle solar arrays of any size up to 3,000W. With such a large capacity, it usually takes a long time to recharge. However, thanks to the max 3,000W solar input, you can fully charge it in about 1.5hrs.
*When the output power of the rooftop solar panel is between 3,000W~5,000W, a BLUETTI D300S is required (sold separately).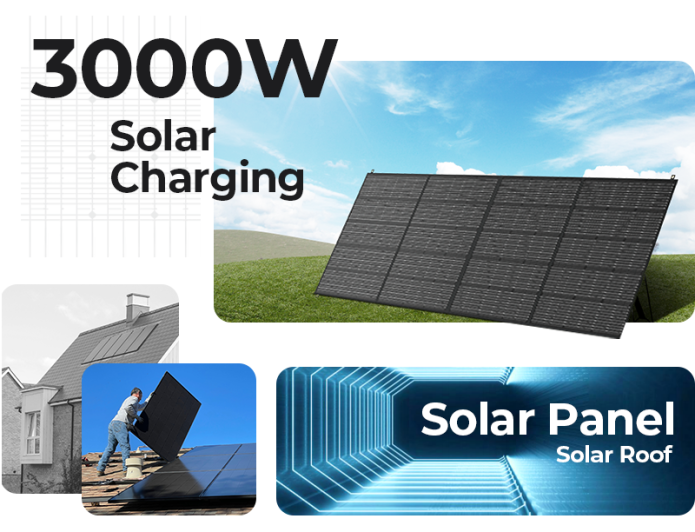 BLUETTI APP remote control via WiFi or Bluetooth
Straightforward and no-fuss operation
Whether you want to control the AC500 system at close range or from a distance, we got you covered. Monitor and control your power usage from anywhere with the BLUETTI app, or manage the most-used tasks directly from the touchscreen, keeping everything under control.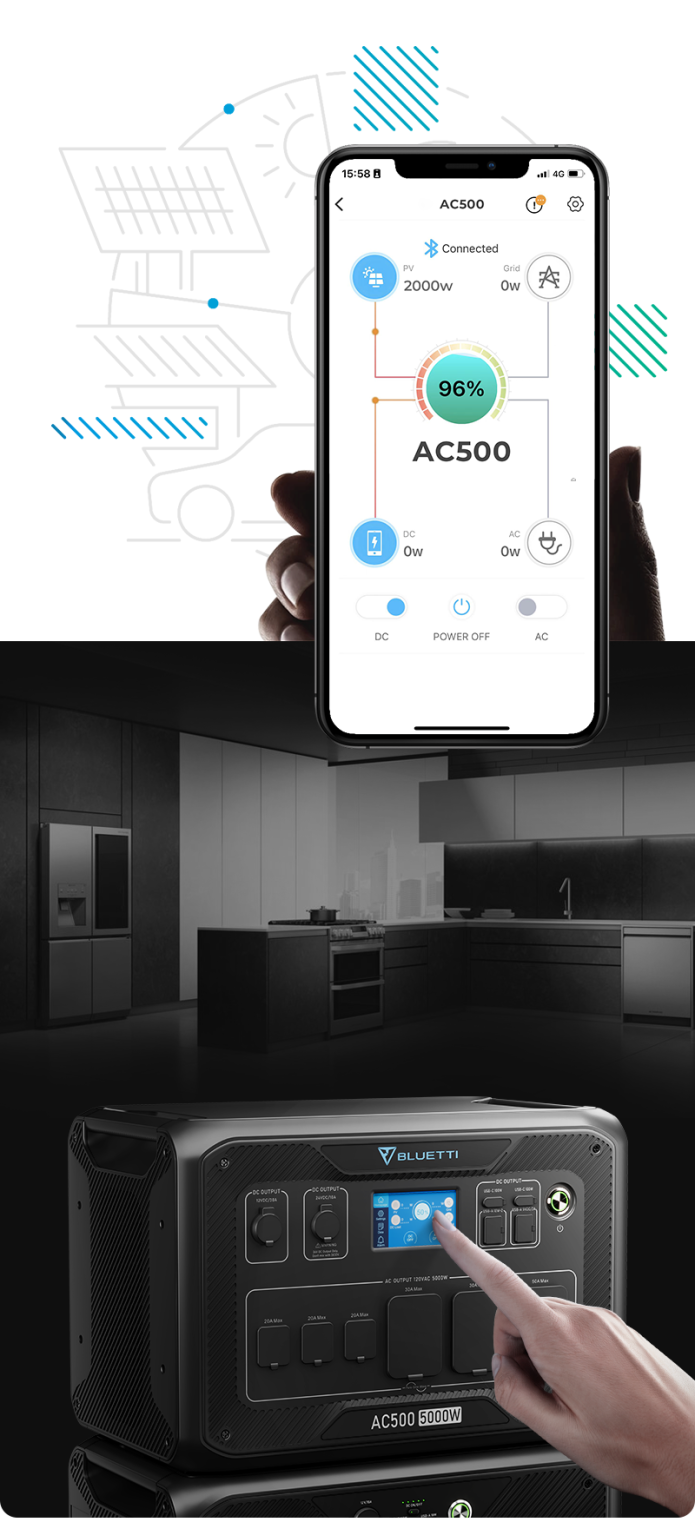 Intelligent Battery Management System (BMS)
LiFePO4 battery cells with over a 10-year lifespan
We never compromise on its safety and lifetime. Built-in LiFePO4 batteries are best known for their strong safety profile and long battery life, resulting from highly stable chemistry, which excels from lead-acid and other battery types.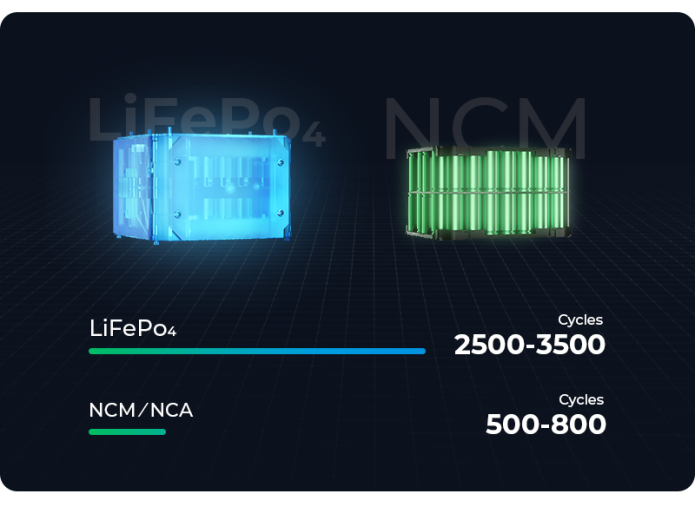 Self-heating Function
Operating Temperature: -4-104℉ (-20-40℃)
Waking up a power station in icy cold winters may be time-consuming. Yet the intelligent Temperature Adaptive Function enables B300S to better heat up the battery and ensure it can work as usual.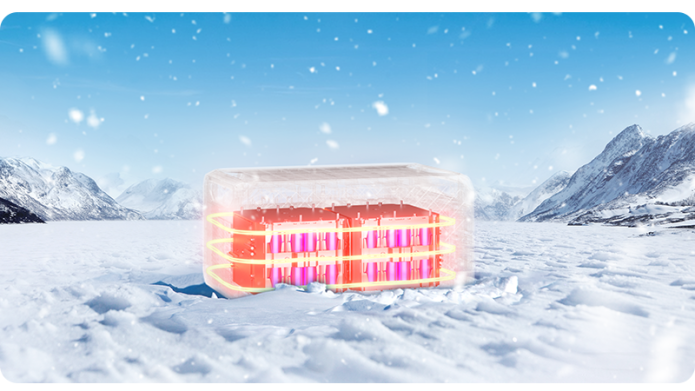 By generating renewable electricity from the sun's energy, PV400 solar panel allows you to enjoy solar power where there's sunlight. Easily set it up and adjust the kickstand to maximize the efficiency, you will get greater power.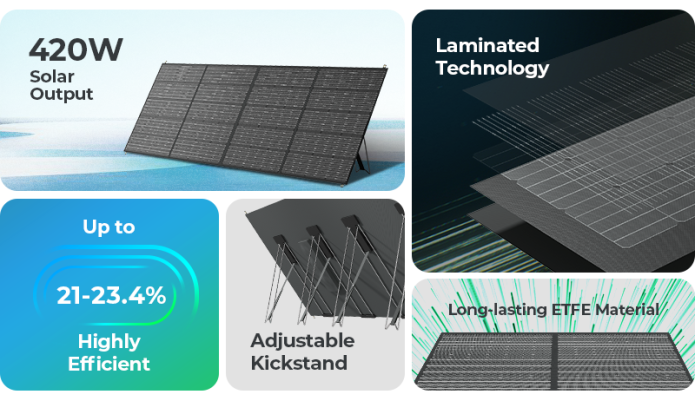 Connecting 6*PV400 in series can fully recharge AC500 solar system within 2 hours.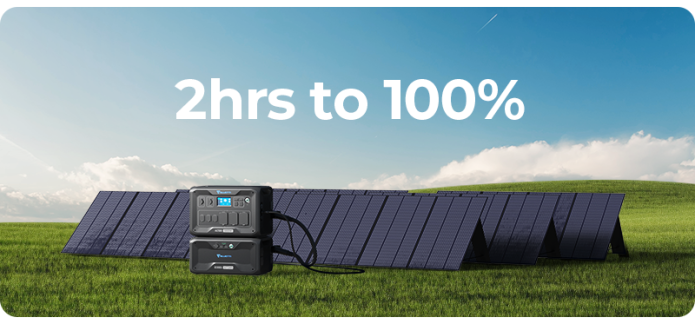 *The parameters are compared according to the US standard.