FDA Certification | Dual Board Design | Scale with Timer | Calorie Counting | Defrosting | Recipes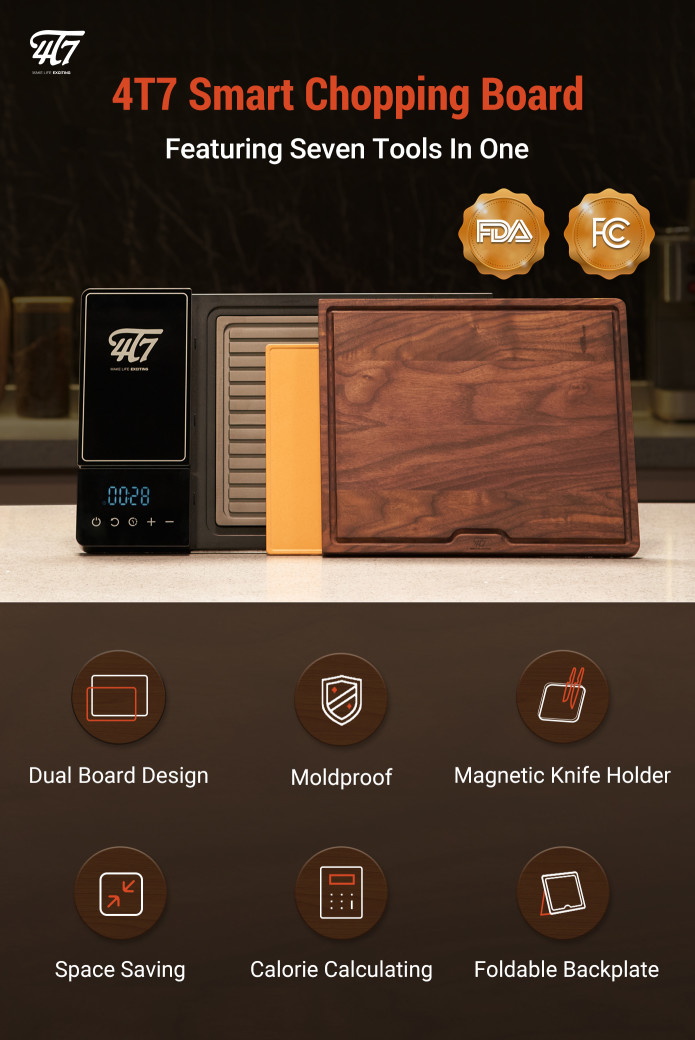 Spending too much time in the kitchen?
Running out of space on your kitchen counter?
On a bulking or cutting diet and struggling to keep tabs on calories?
Done with wet, moldy, smelly cutting boards that mess up your food's flavor?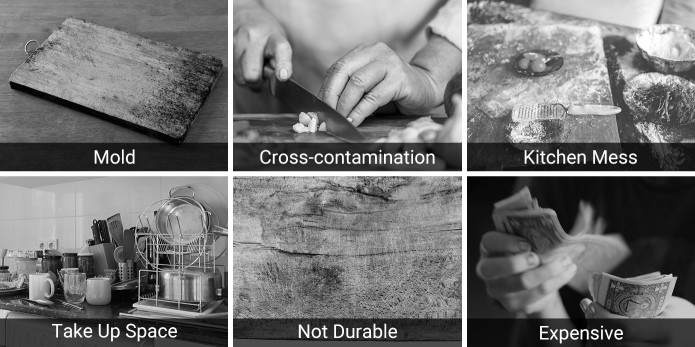 Combining smart kitchen tools with a Lego-style stackable design, the 4T7 All-in-One Smart Chopping Board is here to revolutionize your countertop. 
It puts 7 powerful tools into one modern meal-prep machine. So you can chop it, weigh it, time it, defrost it, and even count the calories for your next meal. All in one place.
Built to fast-track meal prep, put healthier meals on the menu and save time & space in the kitchen, the 4T7 is the smart board that makes cooking a cinch.


Make meal prep easy, while bringing the joy back to your kitchen.
The 4T7 combines 7 powerful tools to make cooking faster, and make healthy eating come naturally. The two full-sized cutting boards and defrosting tray let you prep more food faster, while a built-in digital scale, timer, and an in-app calorie counter put you in the driver's seat for your health. And with a magnetic knife holder and clever lego-like design, it gives valuable countertop real estate back to your kitchen while making clean up quick.
So whether you're meal-prepping for the week or cooking for the kids, the 4T7 will get you in and out faster than ever, without skipping on health or flavor.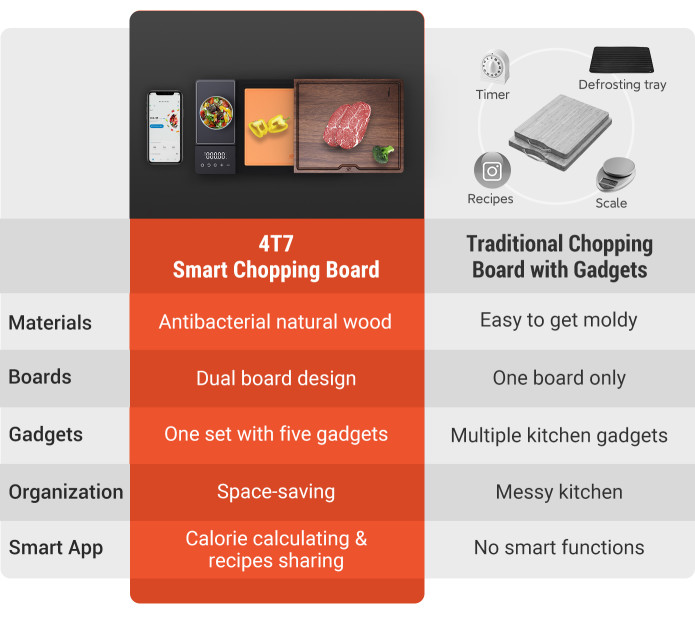 The 4T7's natural bamboo and black walnut chopping boards both feature a waterproof, non-toxic varnish made to keep bacteria from digging its way into the wood. The finish fights scratches and knife scars, where bacteria and mold can tunnel inside other boards. 
Even the extended chopping board is made with a silver ion antibacterial material that keeps it fresher for longer, so it doesn't carry bacteria over to your next meal.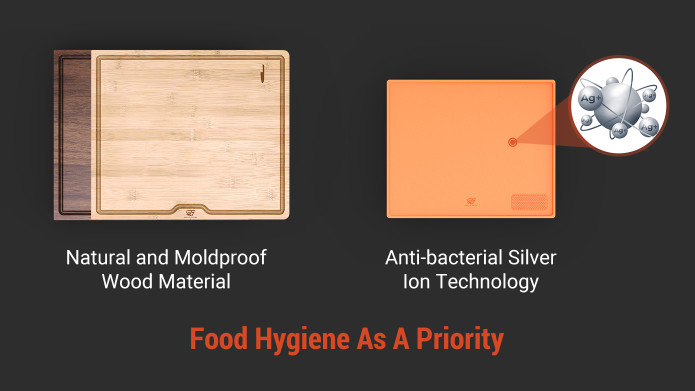 Both boards are eco-friendly and recyclable, so you'll never have doubts about the impact on the environment, or on your health.

Use one board for meat and the other for veg, without them having to meet before you're ready. No need to pause mid-prep to scrub a cutting board just so you have somewhere to chop. 
And the second board tucks neatly underneath your main board, for clean storage and easy access when meal-prep gets hectic.

Hands up if you spend more time on cleaning than cooking. 
The digital scale and timer are built with tempered waterproof glass that comes clean with a wipe. Even the defrosting tray is designed with a ladder-style groove pattern that channels water and other fluids into a tray, so you can easily dump them in the sink, shaving valuable minutes off your daily clean-up.
The bamboo and walnut cutting boards feature a trenched groove that circles the board to catch runaway juices and carrots on the roll, saving them from your countertop. 


Time your meals just right – without getting sauce on your phone. 
Need a clock that counts high? The built-in digital timer goes to a dizzying 99 minutes and 59 seconds – so you can time meals of any size, whether it's a multi-layer thanksgiving feast for the inlaws or stovetop ramen for you and someone special.

Cut it, weigh it, and count the calories in one move. The 4T7's precise digital scale and calorie counter are built onto the side of the cutting board. Slide your diced salmon or chopped cashews smoothly to the scale and find their exact weight on the board and calories on the app.
It features four units of measurement for matching any recipe. And it's accurate down to 0.1 of a gram or up to 3kg, for getting garnishes just right or piling turkey by the pound.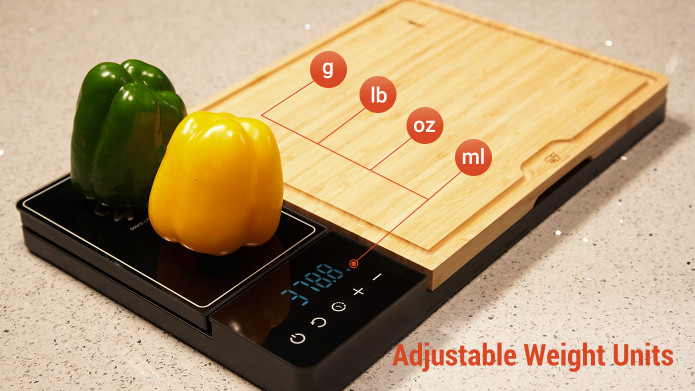 And it uses a massive up-to-date catalog of foods to count calories fast at any amount. With easy-to-follow graphs and diagrams, it's a powerful tool for anyone counting their calories – whether you're bulking, cutting, or simply watching what you eat.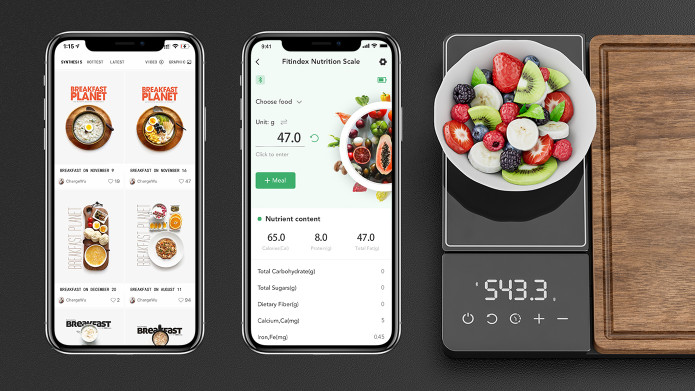 Chicken for the fourth time this week? Planning tasty and healthy meals is an all-day affair. Instead of creating a recipe book, the 4T7 gives you an entire community. 
The app lets you explore recipe ideas, share advice, and support people on their meal-prep journey. It's a catalog of recipes that grows every time a user adds a new one, helping you expand your cooking skills and reach the next level in your health.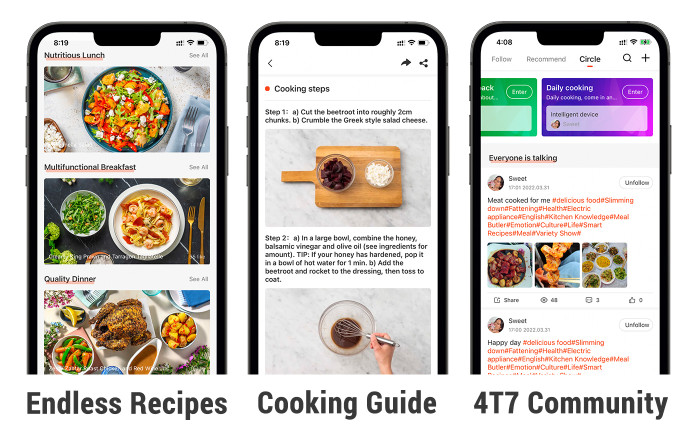 A revolutionary stacking system. A vertical design. Each board slips securely underneath the other, and the whole 4T7 unit can be stored vertically with its fold-out support stand, so it dries faster than other boards without trapping dirty smelly water. 
Perch it on a sill or any narrow piece of counter, and show your other kitchen tools what "Smart-Use-of-Space" looks like.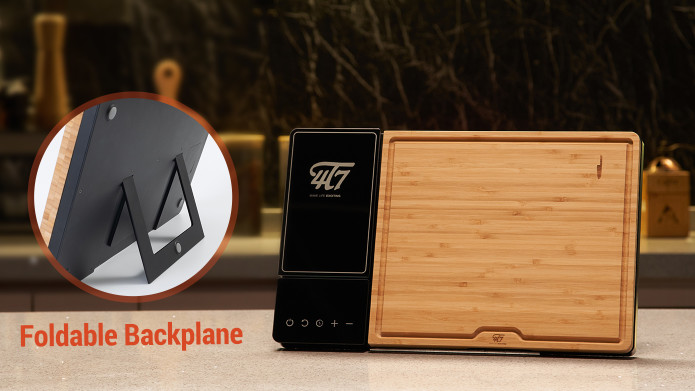 The 4T7 tucks a whole lot into one slim space. The 4T7 fits together like a stack of classy kitchen legos, so you can take it apart, pull out what you need, and put it away with ease.

A knife isn't something you want to misplace. The 4T7 features a super handy magnet embedded into the corner of the cutting board. Simply tap your knife or any iron kitchen tools to the corner when you're finished using them, and it will hold there perfectly – whether upright or lying down.

Defrosting is a waiting game no one has time to play. And the options to speed it up are no better: 
Putting it in water breeds bacteria. 
And the microwave gives hot & cold spots.
And slow heating kills the flavor.

The add-on defrosting tray uses a ladder style groove design to channel air evenly across the food, allowing it to warm more surfaces at once while elevating it away from bacteria. And it's made of a special thermal material that helps to speed up the thawing process. Plus, the grooves are made to channel run off juices away from the food as it thaws, so cleanup is next to nothing.
And the defrosting tray doubles as a baking pan, helping you simplify your kitchen and get rid of even more tools.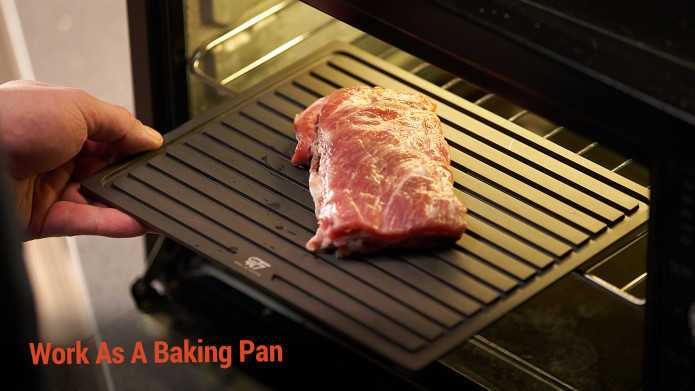 A spoonful or coriander, a pinch of pepper. Whatever you need, the spice grinder built into the second chopping board lets you have it perfectly fresh for any meal, in any amount. Skip the clunky spice grinder, and show guests the true meaning of "freshly ground." It's your creative zone for mashing parsley and grinding thyme – then taking instagrammable photos of your work. 
​

Exquisitely designed to bring the best out of any kitchen. The 4T7 comes in two subtly unique colors – an earthy dark brown walnut, and a light and sturdy bamboo. Helping you match the decor and add a touch of class, whatever your kitchen's character may be.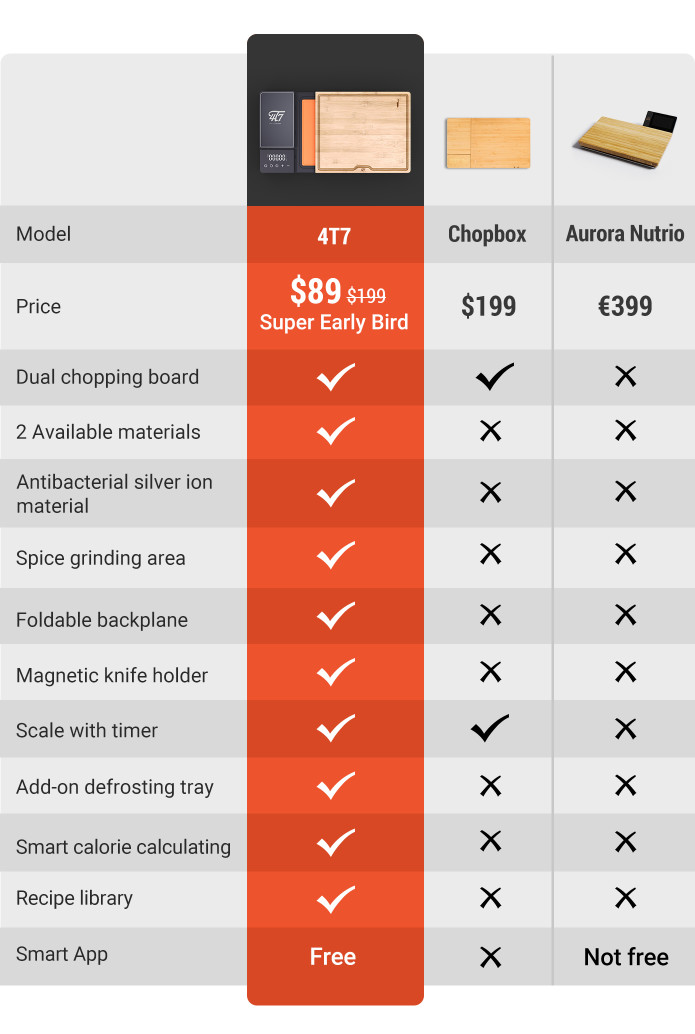 What is 4T7? The meaning of 4T7 is that there are four weeks in a month and seven days in a week. 4T7 is developing all kinds of high-grade kitchen products for global customers. Our vision is to connect the latest technology to everyday life. We hope to lead people to live refined, healthy life and make life exciting for everyone.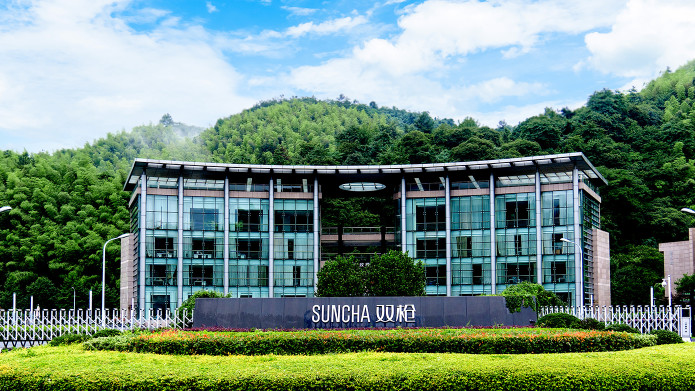 SUNCHA is our reliable supplier. Founded in 1995, SUNCHA has become an industry leading supplier of kitchen utensils, selling 300 million pairs of chopsticks and about 10 million cutting boards annually. SUNCHA is also one of the suppliers for the Olympic Games, World Expo, and G20 Summit. After manufacturing and develpping high-quality kichen products for 25+ years, SUNCHA and its subsidiaries have accumulated 40+ invention patents, 99 utility model patents and 122 appearance patents.